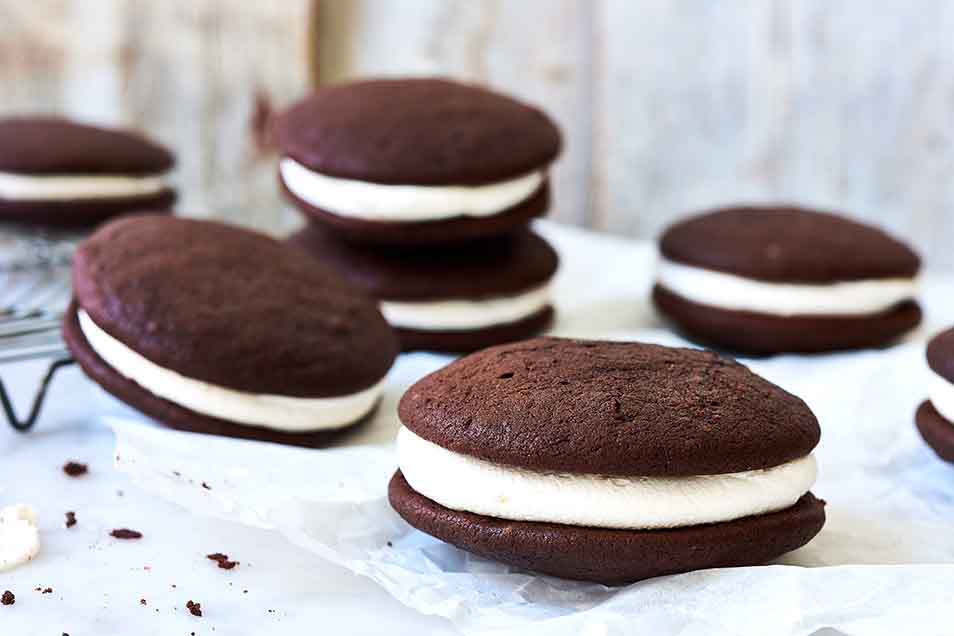 At a Glance
Prep

20 mins. to 30 mins.

Bake

15 mins. to 16 mins.

Total

55 mins. to 1 hrs 6 mins.

Yield

8 large or 16 small pies
Two saucer-shaped rounds of chocolate cake sandwiched around a marshmallow-y cream filling: that's the classic whoopie pie. Originally popular in New England and around Amish country, the whoopie pie has gradually been spreading throughout America, and for good reason: it's a delicious throwback to the days before everyone started counting calories or fat grams. Consider these an occasional decadent treat.
Filling
1 cup vegetable shortening
1 cup confectioners' sugar or glazing sugar
1 1/3 cups Marshmallow Fluff or marshmallow creme
1/4 teaspoon salt dissolved in 1 tablespoon water
1 1/2 teaspoons vanilla extract
Directions
Preheat the oven to 350°F. Lightly grease (or line with parchment) two baking sheets.

To make the cakes: In a large mixing bowl, beat together the butter, sugar, espresso powder, baking powder, baking soda, salt, and vanilla until smooth. Add the egg, again beating until smooth.

Add the cocoa, stirring to combine.

Add the flour to the batter alternately with the milk, beating until smooth. Scrape down the sides and bottom of the bowl, and beat again briefly to soften and combine any chunky scrapings.

Drop the dough by the 1/4-cupful onto the prepared baking sheets, leaving plenty of room between the cakes; they'll spread. A muffin scoop works well here.

Bake the cakes for 15 to 16 minutes, until they're set and firm to the touch. Remove them from the oven, and cool on the pans. While still lukewarm, use a spatula to separate them from the pan or parchment; then allow to cool completely.

To make the filling: Beat together the shortening, sugar, and marshmallow until well combined.

Dissolve the salt in the water, and add to the marshmallow mixture. Add the vanilla, and beat until smooth.

Spread the flat side of half the cakes with the filling. Top with the remaining cakes, flat side towards the filling. Wrap individually, in plastic wrap, until ready to serve.

Yield: 8 large whoopie pies (about 4" dia., about 5 ounces each). To make smaller pies, see "tips," below.
Tips from our bakers
To make 16 smaller whoopie pies (about 2 3/4" dia., about 2 1/2 ounces each): drop the dough onto the baking sheets in 30g balls, about the size of a large ping pong ball, or about 1 1/4". Bake for 11 to 12 minutes, until set. Finish as directed in the recipe.
Marshmallow Fluff is a New England ingredient available in certain other parts of the country. Marshmallow creme, more widely available, is a thinner consistency than Fluff. If you make your filling with marshmallow creme, you may need to add a bit more sugar to stiffen it up sufficiently.
Want to make coffee-flavored mocha whoopie pies? Increase the amount of espresso powder to 3 tablespoons.