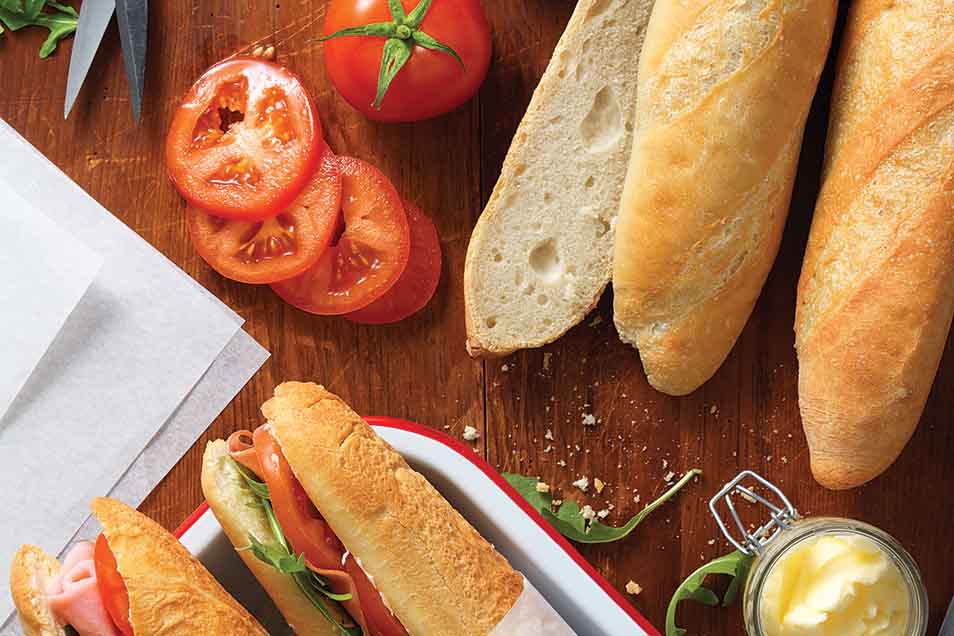 At a Glance
Prep

20 mins. to 30 mins.

Bake

25 mins. to 30 mins.

Total

3 hrs to 7 days 2 hrs 30 mins.

Yield

1 to 4 baguettes, depending how much of the dough you use
Here's a great, easy way to launch your baguette-baking career. Our thanks to Jeff Hertzberg's "Artisan Bread in Five Minutes a Day" for the inspiration.
Read our blog about this bread, with additional photos, at
Flourish.
3 cups lukewarm water
1 tablespoon table salt or 1 1/2 tablespoons kosher salt
1 tablespoon instant yeast
Directions
Find a large (6-quart) bowl or bucket, for dough storage in the fridge. Lightly grease the bowl or bucket.

Place the water directly into the bowl or or other large container.

Add the dry ingredients to the water, and stir to combine. Mix until there are no dry spots; the texture of the dough should be fairly soft.

Knead the dough gently for a few minutes, by hand; it'll be very sticky. Or knead for 1 or 2 minutes in a stand mixer. Cover the container, and let the dough rest at room temperature for 2 hours.

Refrigerate overnight, or for up to 7 days.

To bake bread: Scoop out a scant 1 pound of dough (about ¼ of the batch, about 14 ½ ounces). Place on a greased work surface.

Shape the dough into a rough, slightly flattened oval.

Fold the dough in half lengthwise, and seal the edges with the heel of your hand. Flatten slightly, and fold lengthwise and seal again.

With the seam side down, cup your fingers and gently roll the of dough into a 15" log.

Place the log seam-side down onto a lightly greased or parchment-lined baking sheet, or into the well of a baguette pan.

Cover and allow the baguette to rise till it's very puffy, about 1 1/2 hours. Towards the end of the rising time, preheat your oven to 450°F.

Slash the baguette three or four times on the diagonal.

Spritz the baguette heavily with warm water, and bake until a very deep golden brown, 25 to 30 minutes. Remove from the oven and cool on a rack.

Yield: 1 large baguette.