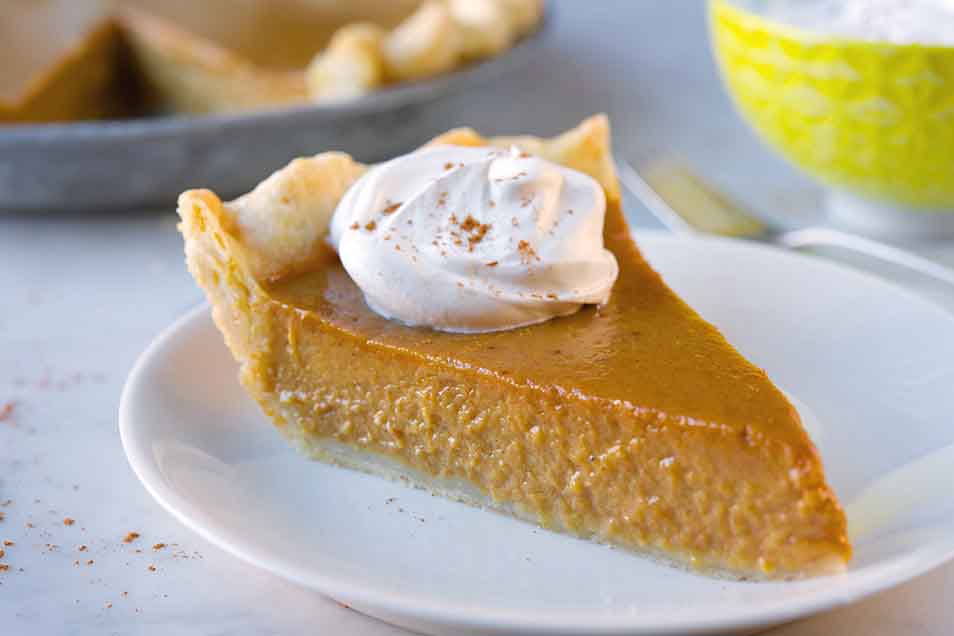 At a Glance
Prep

20 mins. to 40 mins.

Bake

50 mins. to 60 mins.

Total

3 hrs 10 mins. to 5 hrs 10 mins.

Yield

one 9" pie
Is your pumpkin pie bland, or too spicy, or...? The secret to this pie filling is exotic Vietnamese cinnamon.
Filling
2 tablespoons King Arthur Unbleached All-Purpose Flour
1/4 to 1 1/4 teaspoons Vietnamese cinnamon, to taste; use the larger amount if you're a cinnamon lover
pinch (1/16 teaspoon) to 1/8 teaspoon ground cloves
1/8 teaspoon to 1/4 teaspoon ground nutmeg
1/4 teaspoon ground ginger, optional
1/2 teaspoon salt
3/4 cup brown sugar
1 1/2 cups canned pumpkin
2 tablespoons corn syrup, light or dark
1 1/2 cups milk or a 12-ounce can evaporated milk
2 large eggs, lightly beaten
Directions
Mix the flour, spices, and salt in a medium-sized mixing bowl.

Add the sugar and pumpkin, blending thoroughly.

Stir in the syrup and milk. Allow the mixture to rest for 30 to 60 minutes at room temperature; or up to overnight in the refrigerator, if desired; this allows the flavors to meld, and will make the filling smoother.

Add the beaten eggs, whisking till combined.

Pour the filling into the prepared crust. Cover the edge of the crust with a crust shield, or aluminum foil.

Preheat the oven to 450°F.

Place the pie on the bottom rack of your oven, and bake it for 15 minutes.

Reduce the oven temperature to 350°F, move the pie to the middle rack, and bake for an additional 35 to 40 minutes, or until the temperature at the center is at least 175°F, and a knife inserted 1" from the edge comes out moist, but clean.

Remove the pie from the oven, and cool to room temperature (or chill) before serving. Serve with whipped cream, if desired.

Yield: 1 pie, about 8 to 10 servings.
Tips from our bakers
Why the range of spices? So you can match the pie to your audience's taste. Canadians seem to like their pumpkin pies spicy. Americans seem to prefer a blander pie, one where the flavor of pumpkin shines through.