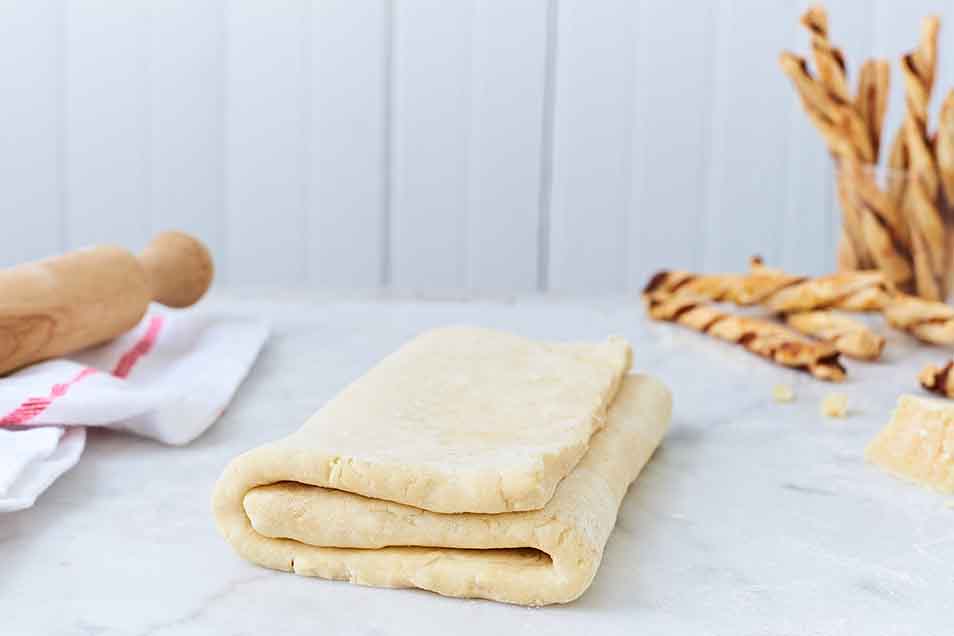 At a Glance
Prep

30 mins. to 40 mins.

Bake

Total

60 mins. to 1 hrs 10 mins.

Yield

1 generous pound puff pastry, enough to roll into a 12" x 24" rectangle
Wonderfully flaky, buttery, tender pastries, turnovers,
cheese straws,
elephant ears (palmiers), shells for savory fillings, and more can be yours with a minimum of effort.
Since this pastry uses only a few ingredients, it's important to make those ingredients top-quality. We recommend Vermont's Cabot unsalted butter and sour cream, both of which are available nationally.
1/2 teaspoon salt*
1/2 teaspoon baking powder
1 cup (16 tablespoons) cold unsalted butter,* cut in pats
1/2 cup sour cream
*If you use salted butter, reduce the amount of salt to 1/4 teaspoon
Directions
Whisk together the flour, salt, and baking powder.

Add the butter, working it in to make a coarse/crumbly mixture. Leave most of the butter in large, pea-sized pieces.

Stir in the sour cream; the dough won't be cohesive. Turn it out onto a floured work surface, and bring it together with a few quick kneads.

Pat the dough into a rough log, and roll it into an 8" x 10" rectangle.

Dust both sides of the dough with flour, and starting with a shorter end, fold it in three like a business letter.

Flip the dough over, give it a 90° turn on your work surface, and roll it into an 8" x 10" rectangle. Fold it in three again.

Chill the dough for at least 30 minutes before using. To make pastry, roll into desired size.

Freeze dough for prolonged storage, up to 2 months. To use, thaw in the refrigerator overnight.
Tips from our bakers
To make puff pastry sausage rolls: Looking for a tasty hors d'oeuvre? You've found it. Divide the puff pastry into four equal pieces, and roll each piece on a lightly floured surface into a 4" x 12" rectangle. Divide 1 pound of uncooked sausage meat into four equal pieces. Working with one piece of meat at a time, form a 3/4"-diameter rope. Place the rope down the center length of the rectangle. Wet one of the longer edges of pastry with water, and roll the other edge over the filling to enclose it. The two edges should meet; the water will help seal them. Place the finished long roll on a baking sheet lined with parchment. Repeat with the remaining ingredients to form three more rolls. Put them on the baking sheet, and place the whole baking sheet in the freezer for 30 to 40 minutes, to firm up. Cut the semi-frozen rolls at 1" intervals — you should get 12 pieces from each roll. Place the individual rolls, seam-side down, on lightly greased or parchment-lined baking sheets. Bake the rolls in a preheated 400°F oven for 15 to 20 minutes, until golden brown. Remove them from the oven, and cool slightly before serving. Yield: 48 small sausage rolls.