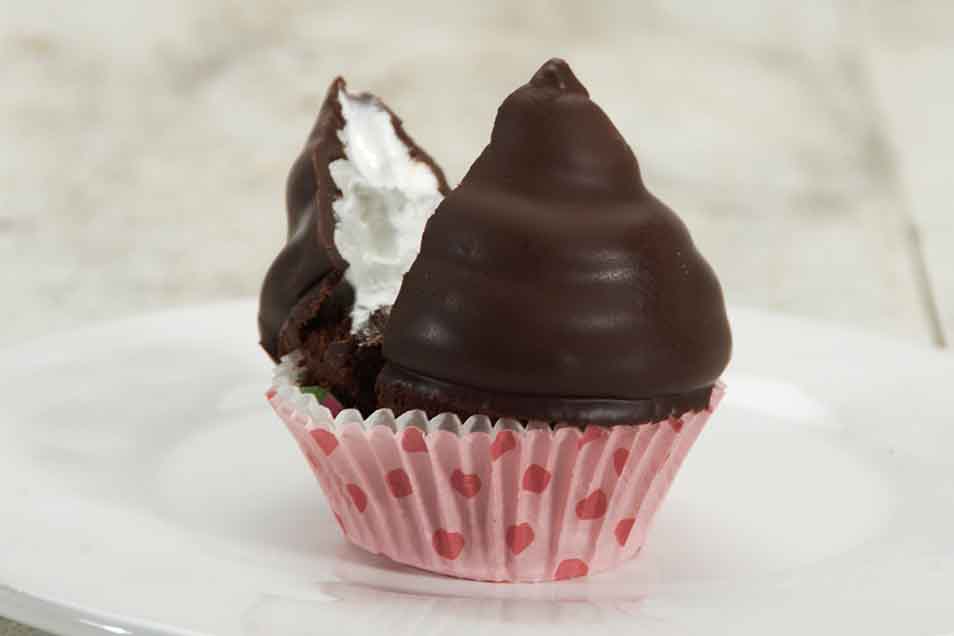 At a Glance
Prep

25 mins. to 35 mins.

Bake

15 mins. to 25 mins.

Total

4 hrs 40 mins. to 5 hrs

Yield

18 cupcakes
A top hat on a true gentleman sets him apart from the rest of the crowd. Topping a cupcake with miles of marshmallow and creamy chocolate coating sets it apart from the usual, elevating the humble cupcake to new heights.

While these cupcakes do take a little more work, the end result is something that will have your friends gasping in wonder and begging for your secret to these amazing treats.
Chocolate dip
2 cups chopped chocolate
3 tablespoon vegetable oil
Directions
Prepare, bake, and cool 18 chocolate cupcakes. If your recipe makes 24 cupcakes, you won't have enough topping for the extra six; just consider them your bakers' bonus!

Mix the boiling water and sugar, stirring until the sugar is dissolved completely. Set aside to cool to room temperature.

In a stand mixer fitted with the whisk attachment, whip the cooled sugar water with 1/4 cup of meringue powder to very stiff peaks. This will take up to 15 minutes, depending on the mixer.

Using a piping bag, pipe tall swirls of meringue onto each cupcake. The look will be similar to that of a soft-serve ice cream cone. Once all of the cupcakes are topped, place them in the freezer for several hours to firm up.

To make the dip, melt the chopped chocolate over low heat or in the microwave. Add the vegetable oil and stir until smooth. Let cool to room temperature.

To dip, pour the chocolate dip into a tall glass or container. Invert the frozen cupcake, and dip straight down. Just dip to the bottom edge of the marshmallow; don't dip the cupcake itself. Hold briefly over the glass to drain excess chocolate.

Allow the chocolate to set on the cupcakes at room temperature, or return to the freezer to speed up the process. Return to room temperature for 10 minutes before serving.

Yield: 18 cupcakes.