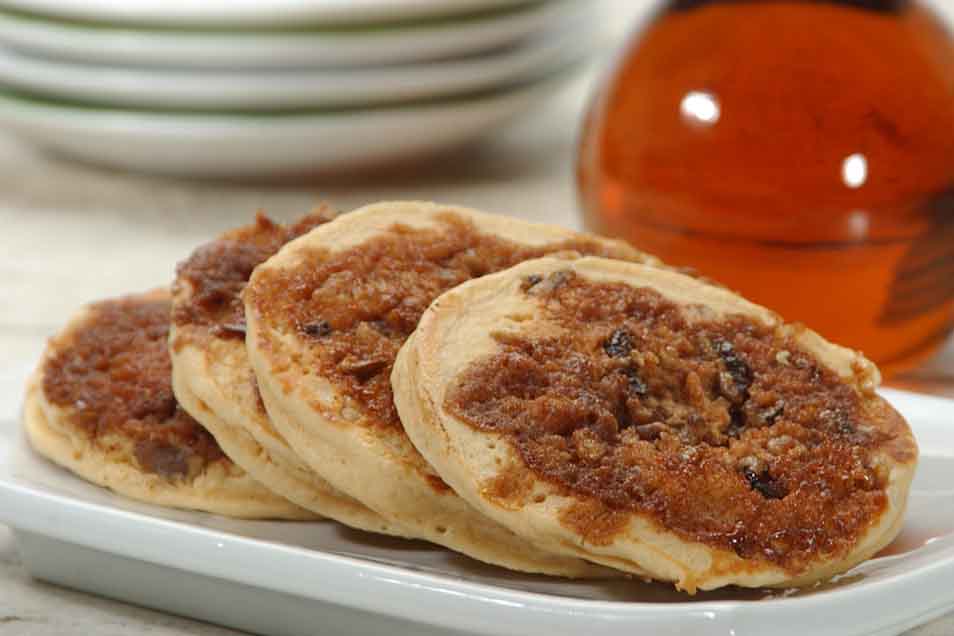 At a Glance
Prep

20 mins. to 25 mins.

Bake

5 mins. to 8 mins.

Total

25 mins. to 33 mins.

Yield

about 20 4" pancakes
Imagine making a cinnamon-streusel coffeecake in less than 30 minutes. A challenge, eh? Well, these pancakes have all the flavors and crunch of your favorite coffeecake, without the long baking time.
A batch of batter, a smattering of streusel, and a big punch of cinnamon flavor makes these pancakes a true morning favorite.
Cinnamon Streusel
1/2 cup brown sugar
1/2 cup chopped nuts, pecans, walnuts, or almonds preferred
3/4 teaspoon cinnamon
Directions
Beat the eggs and milk until light and foamy. Stir in the butter or vegetable oil.

Gently and quickly mix the flour, salt, baking powder, and sweetener into the egg and milk mixture. Let the batter rest for at least 15 minutes, while the griddle is heating to 350°F; it'll thicken slightly.

While the batter is resting, make the streusel. Place the brown sugar, nuts, and cinnamon in a small bowl, and mix with your fingers or a spoon until well combined.

Transfer 1/2 cup of the batter to a measuring cup with a pour spout. Add the Baker's Cinnamon Filling mix and stir until smooth.

Pour 1/4 cup of the plain batter onto the hot griddle and let it spread slightly. Pour about 1 tablespoon of the cinnamon batter into the center of the batter, like a bulls-eye. Repeat with remaining batters to make as many cakes as will fit on your griddle, or in your pan.

Cook the pancakes until small bubbles start to form in the batter. Sprinkle a tablespoon of the streusel onto each pancake, and flip over. Add another tablespoon of streusel to the cooked top of each pancake.

Continue to cook the pancakes until fully cooked through. Serve warm, with a dusting of powdered sugar if desired.