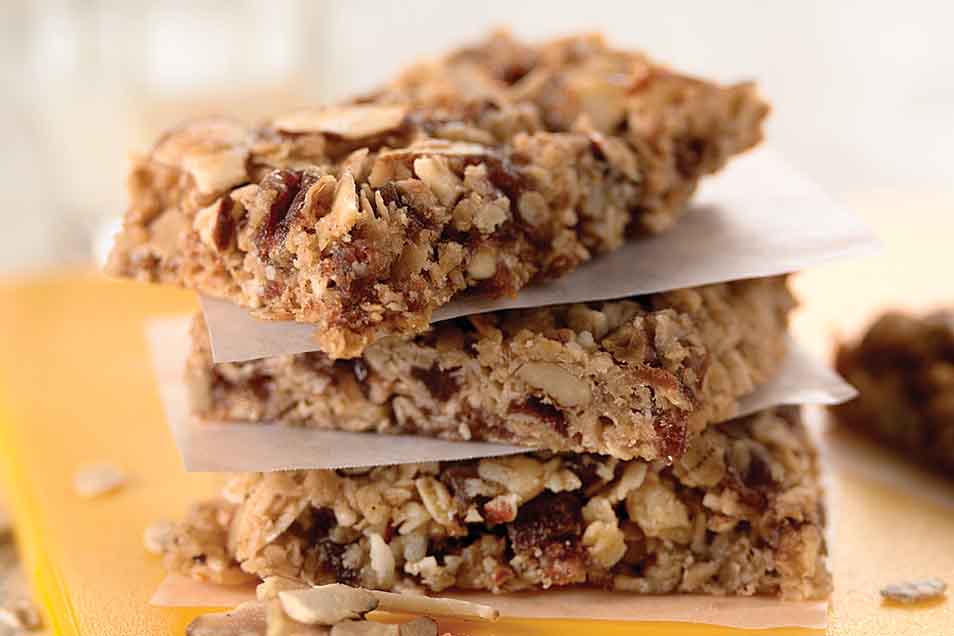 At a Glance
Prep

17 mins. to 25 mins.

Bake

25 mins. to 30 mins.

Total

47 mins. to 60 mins.

Yield

about 1 dozen bars
Enjoy the tang of raspberry in these chewy/crisp, portable treats.
1 2/3 cups quick-cooking rolled oats
3/4 cup Sticky Bun Sugar*
1/3 cup oat flour, or finely ground rolled oats
1/2 teaspoon salt
1/4 teaspoon ground cinnamon, optional
1 1/2 cups nuts/coconut; we like 1/2 cup each chopped pecans, sliced almonds, and unsweetened coconut
1 cup Raspberry Jammy Bits
1 teaspoon vanilla extract
1/4 cup melted butter or vegetable oil
1/4 cup honey, maple syrup, or corn syrup
1 tablespoon water
*See "tips," below, for a substitute.
Directions
Preheat the oven to 325°F. Lightly grease a 9" x 13" pan.

Stir together the dry ingredients, including the nuts and Jammy Bits.

In a separate bowl, whisk together the vanilla, melted butter or oil, honey or syrup, and water.

Toss the wet ingredients with the dry until the mixture is evenly crumbly.

Spread in the prepared pan, shaking the pan to evenly cover the bottom, and pressing in firmly.

Bake the bars for 25 to 30 minutes, until they're just starting to brown, and are bubbly around the edges.

Remove them from the oven and cool for 10 minutes.

Use a knife (or baker's bench knife) to cut the bars while they're still warm. Let cool completely before removing from the pan.

Yield: about 1 dozen 2" x 4 1/2" bars.
Tips from our bakers
If you don't want to use Sticky Bun Sugar, you can make bars that come close to that texture by substituting 3/4 cup granulated sugar + 2 tablespoons light corn syrup + 2 tablespoons melted butter for the Sticky Bun Sugar. And yes, you'll still add both the additional syrup (or honey) and butter as called for in the recipe.