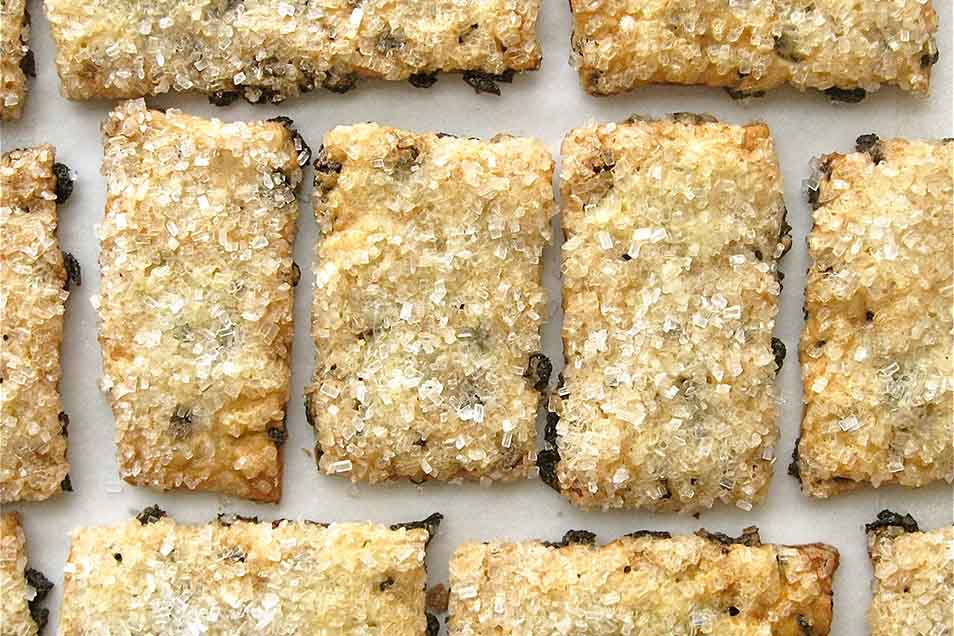 At a Glance
Prep

25 mins. to 35 mins.

Bake

14 mins. to 18 mins.

Total

39 mins. to 1 hrs 13 mins.

Yield

about 3 dozen cookies
These raisin cookies mimic the late lamented Golden Raisin Biscuits, formerly sold under the Sunshine brand name, and later by Keebler. These flat, not overly sweet, raisin-filled cookies came in perforated strips that you'd break apart into rectangles. Keebler purchased Sunshine in 1996, and unfortunately dropped Golden Raisin Biscuits from their lineup; many of us have missed them ever since. Thus this recipe. More evocation than clone, these cookies are sweeter and more crisp than the original, but a tasty reminder of a classic cookie of years gone by.
Dough
1 cup King Arthur White Whole Wheat Flour or Unbleached All-Purpose Flour*
2 tablespoons confectioners' sugar
1 teaspoon baking powder
1/4 teaspoon salt
6 tablespoons cold butter
3 to 4 tablespoons ice water*
*If you use white whole wheat flour, substitute 1 tablespoon orange juice for 1 tablespoon of the ice water, for best flavor.
Filling
1 large egg, lightly beaten
1 1/2 cups currants, or chopped raisins
Directions
Lightly grease a couple of baking sheets, or line them with parchment.

Whisk together the flour, sugar, baking powder, and salt. Cut the butter into small cubes, and work it into the dry ingredients using your fingers, a mixer, or a fork, mixing until the dough is unevenly crumbly.

Drizzle in the ice water (or orange juice and water, if you're using whole wheat flour), mixing until the dough is cohesive. Grab a handful; if it holds together willingly and doesn't seem at all dry or crumbly, you've added enough liquid.

Divide the dough in half, and shape each half into a rough rectangle. Press each of the four sides against your work surface to smooth any ragged edges.

Wrap the dough, and refrigerate it for 30 minutes. Towards the end of the refrigeration time, preheat the oven to 350°F.

Take one piece of the dough, and place it on a lightly floured work surface. Roll it into a rectangle that's about 10" x 14", about 1/8" thick. Don't worry about ragged edges; life is imperfect.

Brush the surface of the dough lightly with some of the beaten egg, then spread half the surface (one of the "long" halves — a swatch about 5" x 14") with 3/4 cup of the currants, pressing them in gently.

Fold the other half of the dough over the currants, and roll again, until you have a piece of dough about 6" x 15". Some of the currants may pop through; that's OK.

Brush the dough lightly with some of the beaten egg, and sprinkle with 1/4 cup of the coarse sugar. (If you don't have coarse sugar, use a couple of tablespoons of regular granulated sugar. The cookies won't look as nice, but will taste fine.)

Now, trim the ragged edges; these will be the "cook's cookies," the ones you spirit away and eat yourself because you don't care what they look like.

Use a baker's bench knife or a rolling pizza wheel, carefully cut the rectangle of dough into three strips, lengthwise. Then cut each lengthwise strip into five crosswise pieces; you'll have a total of 15 rectangular cookies. Note: Be very careful if you've rolled the dough on a silicone rolling mat; you don't want to cut the mat when you cut the cookies.

Transfer the cookies to one of the prepared baking sheets, spacing them close together; they won't expand much.

Repeat the entire process with the remaining piece of dough.

Bake the cookies for 14 to 18 minutes, until they're a light golden brown. Remove them from the oven, and transfer them to a rack to cool.

Yield: 30 cookies, plus additional scrap cookies for the cook.