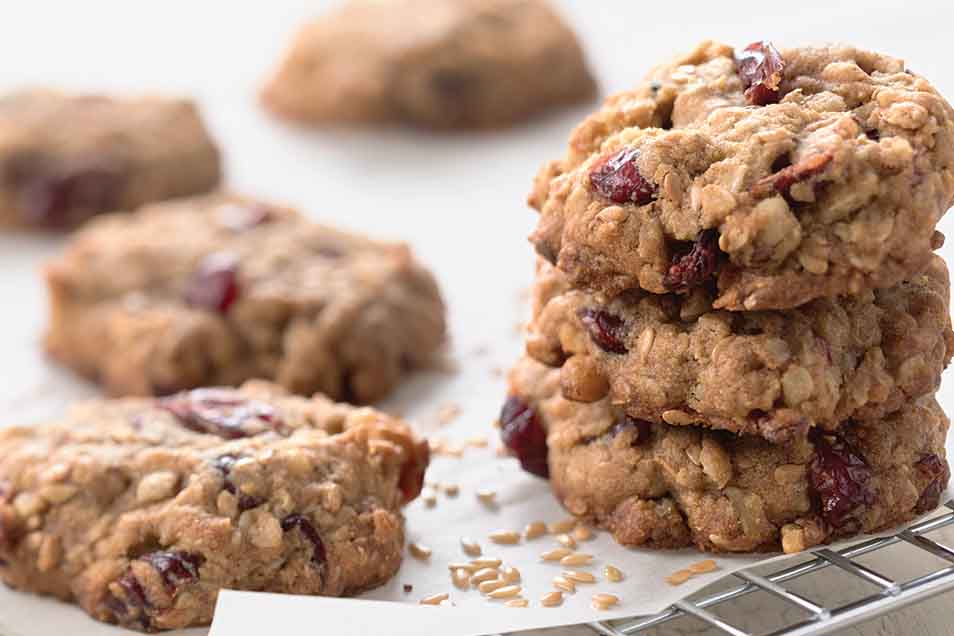 At a Glance
Prep

15 mins. to 20 mins.

Bake

10 mins. to 12 mins.

Total

1 hrs 15 mins. to 1 hrs 32 mins.

Yield

3 1/2 dozen
Crunchy and yummy, with more antioxidants, fiber, and omega-3 fatty acids than the average cookie.
1 cup soft butter
3/4 cup brown sugar, lightly packed
1 teaspoon ground cinnamon
1 teaspoon vanilla extract
1/2 teaspoon baking soda
1/2 teaspoon salt
1 large egg
1 1/2 cups King Arthur White Whole Wheat Flour
1 1/2 cups old-fashioned rolled oats (not instant or quick cooking)
1/2 cup King Arthur whole flax meal
1/4 cup King Arthur whole flax seeds
1 1/2 cups dried cranberries or raisins
1/2 to 1 cup chopped nuts, optional; walnuts or pecans are tasty
Directions
Lightly grease two baking sheets, or line them with parchment.

In a large bowl, beat together the butter, brown sugar, cinnamon, vanilla extract, baking soda, salt, and egg until fluffy.

Mix in the flour, oats, flax meal and seeds, dried fruit, and nuts.

Let the dough rest for 30 minutes or so at room temperature, for the oats to soften. Towards the end of the rest period, preheat the oven to 350°F.

Scoop the dough by rounded tablespoonfuls onto the prepared baking sheets. Flatten each ball of dough slightly.

Bake the cookies for 10 to 12 minutes, until golden brown. Cool them on the baking sheets for 15 minutes or so, to allow them to set. Move them to a cooling rack to finish cooling.

Yield: 3 1/2 dozen cookies.