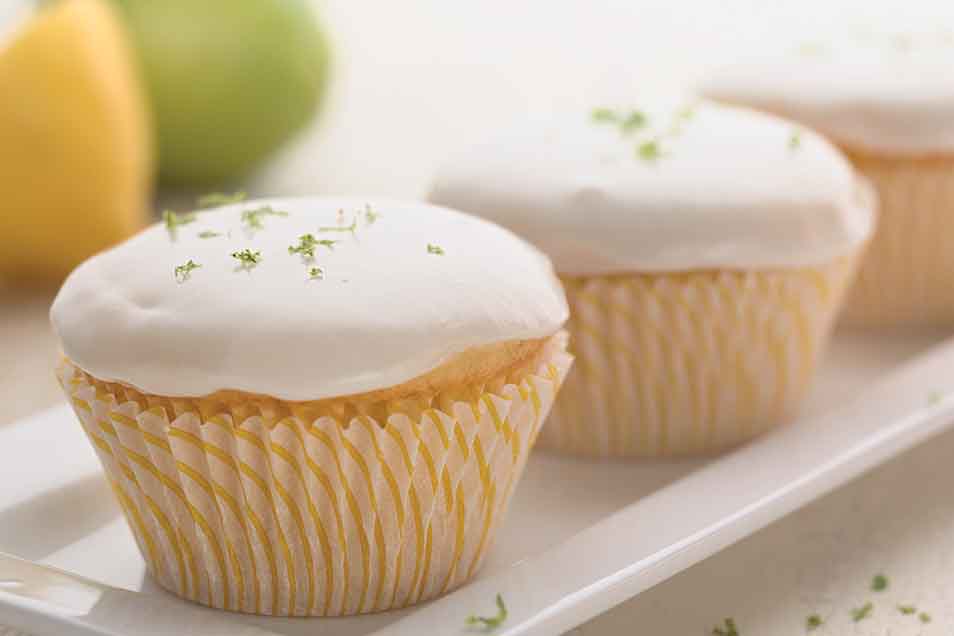 At a Glance
Prep

20 mins. to 30 mins.

Bake

16 mins. to 20 mins.

Total

1 hrs 36 mins. to 1 hrs 50 mins.

Yield

12 cupcakes
Bright and fresh, these cupcakes rely on lemon and lime for their tangy taste. Note that these are more European-style cake than American, which means they're a bit drier and denser than what you might be used to. But if you enjoy that style of cake — where frosting fill the richness quotient, with cake providing great flavor — then these cakes are for you
Cupcakes
6 tablespoons vegetable oil
3/4 cup granulated sugar
2 tablespoons lemon powder or lemon zest
1/2 teaspoon salt
1 tablespoon lime zest (grated lime peel)
1 tablespoon lime juice (juice from 1/2 lime)
2 large eggs, at room temperature
1 1/2 cups King Arthur Unbleached Cake Flour Blend or King Arthur Unbleached All-Purpose Flour
1 teaspoon baking powder
1/2 cup milk, at room temperature
Glaze
3 tablespoons melted butter
1 tablespoon lemon powder or lemon zest
1 tablespoon lime zest
1 1/2 cups confectioners' sugar, sifted
food coloring, optional
2 to 3 teaspoons water
grated lemon or lime peel (lemon or lime zest), for garnish
Directions
To make the cupcakes: Preheat the oven to 375°F. Place cupcake liners in the 12 cups of a muffin pan. Position an oven rack in the middle of the oven.

Beat together the oil, sugar, lemon juice powder, salt, and lime zest until light in color, about 2 minutes at medium-high speed.

Beat in the lime juice; then the eggs, one at a time, until the mixture lightens in color, about 2 minutes at medium-high speed.

In a separate bowl, whisk together the flour and baking powder.

At low speed, add the flour mixture to the batter in three additions, alternating with two additions of the milk; mix until blended, about 30 seconds.

Scoop the batter into the prepared muffin pan, filling each cup about 2/3 full.

Bake until a cake tester inserted into the center of a cupcake comes out clean, 16 to 20 minutes; the cakes will remain quite pale.

Remove from the oven, and after 5 minutes transfer to a rack to cool.

To make the glaze: Whisk together the ingredients to make a smooth glaze about the consistency of molasses, adding additional liquid or confectioners' sugar as needed.

To glaze cupcakes: Dip cooled cupcakes into the glaze. Sprinkle with zest, if desired; the glaze sets up quickly, so be sure to sprinkle with zest right after dipping.

Yield: 12 cupcakes.