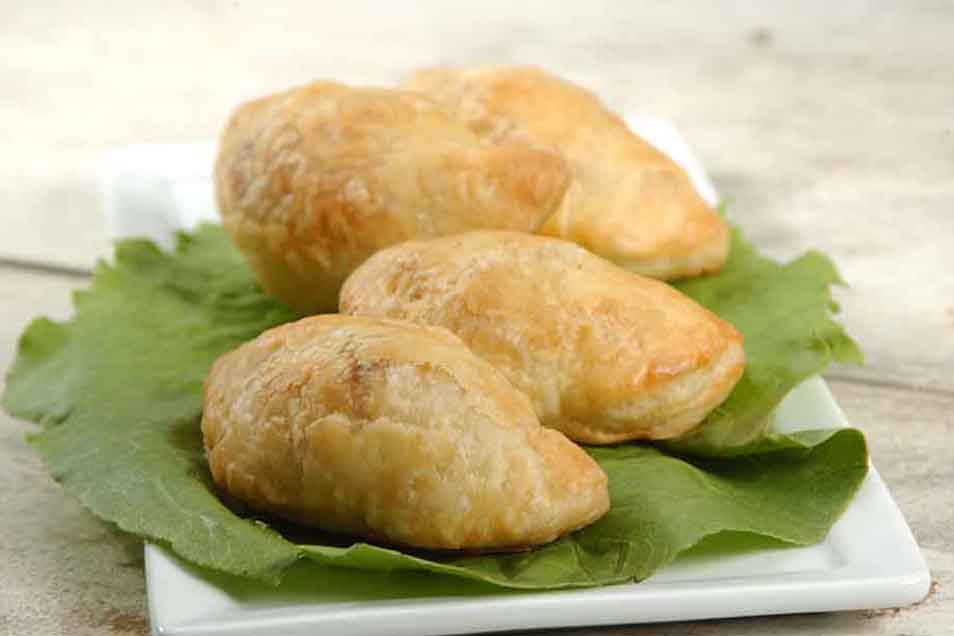 At a Glance
Prep

25 mins. to 35 mins.

Bake

15 mins. to 20 mins.

Total

60 mins. to 1 hrs 25 mins.

Yield

20 to 24 small samosas
From its earliest appearance in Middle Eastern and Central Asian cuisines centuries ago, the samosa (just one of its various names) has spread throughout the world. This stuffed pocket's typical butter and flour pastry lends itself to a myriad of filling possibilities. For our version of samosas, a savory filling of onions, potatoes and spices is brightened by the sweetness of peas to create an amazing snack.
Quick Flaky Pastry
2 1/2 cups King Arthur Unbleached All-Purpose Flour
1/2 teaspoon salt
1 cup unsalted butter, chilled
1/4 to 1/2 cup ice water
Filling
2 cups cooked potatoes, drained and cubed
2 tablespoons butter
1 cup diced onion
2 cloves garlic, minced
1 teaspoon curry powder
1/4 to 1/2 teaspoon cumin, to taste
1 cup frozen peas, thawed
1/2 teaspoon Sriracha hot sauce, to taste (optional)
salt, pepper to taste
egg wash for brushing pastries
Directions
Combine the flour and salt in a mixing bowl. Cut in half of the chilled butter with a pastry blender until the butter/flour mixture resembles granola. Work quickly to keep the butter as cold as possible.

Dice the remaining butter and add to the butter/flour mixture in the bowl. Work in the new butter until it is the size of dried cranberries. You can flatten the pieces slightly with your fingers as you go along, creating leaves of butter coated in flour.

Sprinkle about half of the ice water over the butter/flour and work gently, adding more water as needed until the dough forms a rough mass. Knead the dough for about 30 seconds.

Divide the dough in half and press gently into 2 discs. You should still be able to see bits of butter in the dough. Wrap each disc in plastic wrap and refrigerate for 30 minutes. You can keep the dough in the fridge up to overnight if desired.

While the dough is chilling, prepare the filling. Melt the butter in a medium-sized saute pan. Add the onions and garlic, cooking for two to 3 minutes until the onions turn translucent. Take care not to burn the garlic.

Add the curry powder and cumin and saute for an additional minute. Add the potatoes and turn to coat well in the spices. Cook and break up the potatoes for a few more minutes. You can mash the filling smooth at this time, or leave pieces of potato according to your preference.

Taste the filling for seasoning, adjust with salt and pepper and Sriracha hot sauce if desired. Remove from the heat and stir in the peas, taking care not to break them up too much.

Allow the filling to cool to just barely warm. When you are ready to roll your dough, preheat the oven to 400°F and line two half sheet pans with parchment paper.

Working with one disc at a time, roll the chilled dough to 1/8" thick. Cut circles of dough with a sharp edged round 3" cutter. Place 2 tablespoons of filling onto each round and fold the dough into half moons. Use a touch of water to help seal the rounds if needed.

Use a fork to seal the edges of each samosa. Place on the parchment-lined sheet and brush with egg wash to coat. Bake for 15 to 20 minutes or until deep golden brown. Serve hot with yogurt or sour cream for dipping.

*the filling recipe is very generous. If you have leftover filling, it can be frozen for up to one month, or served in tortillas for a quick lunch.
Tips from our bakers
A food processor makes this dough in a snap. Add the flour, salt and half of the butter to the work bowl fitted with the steel blade. Pulse until the mix resembles granola. Add the rest of the butter and pulse briefly. Dribble in the ice water with the machine running until the dough forms a mass. Chill as directed.
Sriracha, aka Rooster Sauce can be purchased in larger grocery stores, or in Asian markets. It packs quite a punch so use it sparingly at first.
To make egg wash, whisk one egg with 1 teaspoon of water and a pinch of salt. Eggs in a carton, such as Egg Beaters, makes an excellent egg wash.