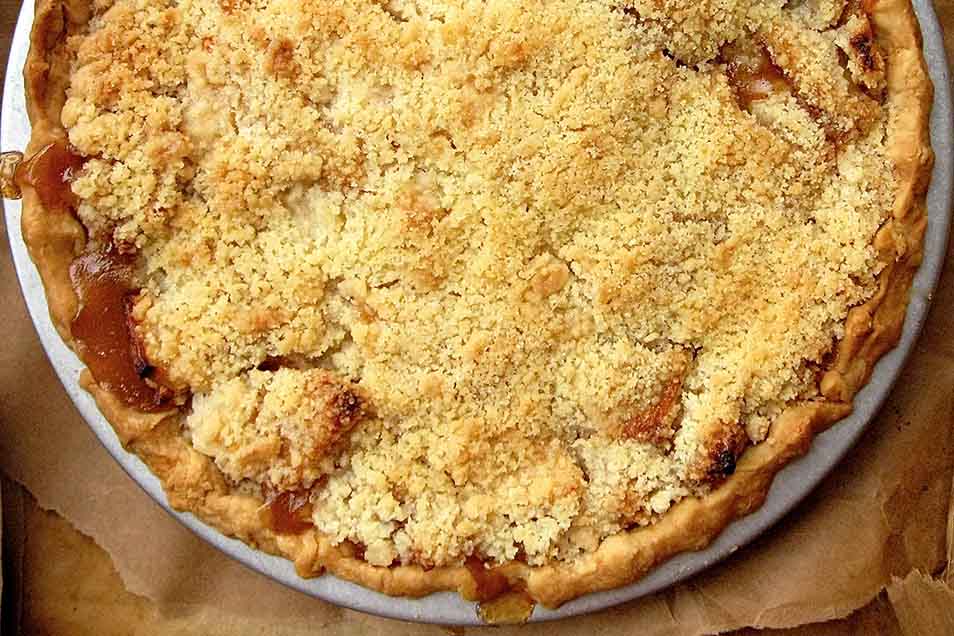 At a Glance
Prep

25 mins. to 40 mins.

Bake

60 mins. to 60 mins.

Total

1 hrs 25 mins. to 1 hrs 40 mins.

Yield

9" pie, 8 to 10 servings
This unusual baking method for apple pie caught our eye years ago, when it arrived via e-mail from reader Kathleen Johnstone. Pie baked in a bag? Hmmm... We baked the pie — a bit skeptically, perhaps — but found it to be beautifully golden brown, and perfectly cooked: toothsome yet tender apples, golden brown crust, light brown streusel topping. As Kathleen commented in her accompanying note, "Very good, and all the mess is inside the paper bag." Which it was, we're pleased to say.

If you're not quite happy with your own apple pie recipe; or have a chronic problem with bubbly apple pie and the subsequent mess and smoke it makes, we recommend the following recipe highly.
Crust
1 1/4 cups Pastry Flour Blend or King Arthur Unbleached All-Purpose Flour
heaping 1/4 teaspoon salt
3 tablespoons vegetable shortening
1/4 cup (4 tablespoons) cold unsalted butter, cut into 1/2" pieces
4 to 5 tablespoons ice water
Filling
3 1/2 to 4 pounds apples, peeled, cored, and sliced; enough to make 8 cups sliced apples
¾ cup brown sugar
1 teaspoon ground cinnamon
¼ teaspoon salt
½ teaspoon ground nutmeg
2 tablespoons lemon juice
2 tablespoons boiled cider, optional but tasty
3 tablespoons King Arthur Unbleached All-Purpose Flour or ¼ cup Pie Filling Enhancer
Streusel topping
1/2 cup granulated sugar
1/2 cup King Arthur Unbleached All-Purpose Flour
1/2 cup (8 tablespoons) cold butter, cut into pats
Directions
To make the crust: Whisk together the flour and salt, then work in the shortening until everything is well combined.

Work in the butter until the mixture is unevenly crumbly; some pieces of butter can be left a bit larger than the others.

Add the water 1 tablespoon at a time, mixing as you sprinkle the water onto the flour/fat.

When the dough is moist enough to hold together when you squeeze it, transfer it to a lightly floured work surface. Knead the dough three or four times to bring it together, then pat it into a thick disk. Roll the disk on its edge, like a wheel, to smooth out the edges. This step will ensure your dough will roll out evenly, without a lot of cracks and splits at the edges later. Wrap in plastic and refrigerate for 30 minutes, while you make the filling.

To make the filling: Put the sliced apples in a big microwave-safe bowl, and stir in the brown sugar, cinnamon, salt, nutmeg, lemon juice, and boiled cider.

Microwave the filling, uncovered, for 5 minutes. This softens the apples just a bit, and gets their juices flowing. Skip this step if you like; it's not critical, though we think it helps.

Stir in the flour or Pie Filling Enhancer.

Preheat the oven to 425°F.

Remove the crust from the refrigerator. If it's been chilling longer than 30 minutes, give it 10 minutes or so to warm up a bit. Roll it into a 12 1/2" to 13" circle.

Lightly grease a 9" pie pan, preferably one that's at least 1 1/2" deep, and lay the crust in the pan, settling it into place gently. Don't tug at it or stretch it; this could cause it to shrink as it bakes.

Spoon the filling into the crust.

To make the topping: Combine the sugar, flour, and butter, working them together until crumbly. Don't over-mix; you don't want the streusel to turn into a solid mass.

Spread the streusel atop the filling.

Place the pie in a brown paper grocery bag. If you're nervous about baking in a paper bag, see our tip about baking in parchment, above. Secure the bag closed; staples or uncoated paper clips work well for a paper bag. Place the pie in its bag on a baking sheet, which will make it easier to handle.

Bake the pie for 1 hour.

Remove the pie from the oven, and carefully open it, avoiding any steam. Remove the pie, and set it on a rack to cool for at least 30 minutes before slicing.
Tips from our bakers
If you have ANY hesitation about baking in a paper bag, substitute parchment paper, stapling two pieces together to fashion a bag. Make sure to use a pie pan with a narrow rather than wide rim, so it fits in your parchment "bag."
There are many different thickening options available for fruit pies, from flour to cornstarch to Instant ClearJel and more. For an easy guide to thickener substitutions, see our Pie Filling Thickeners Guide.