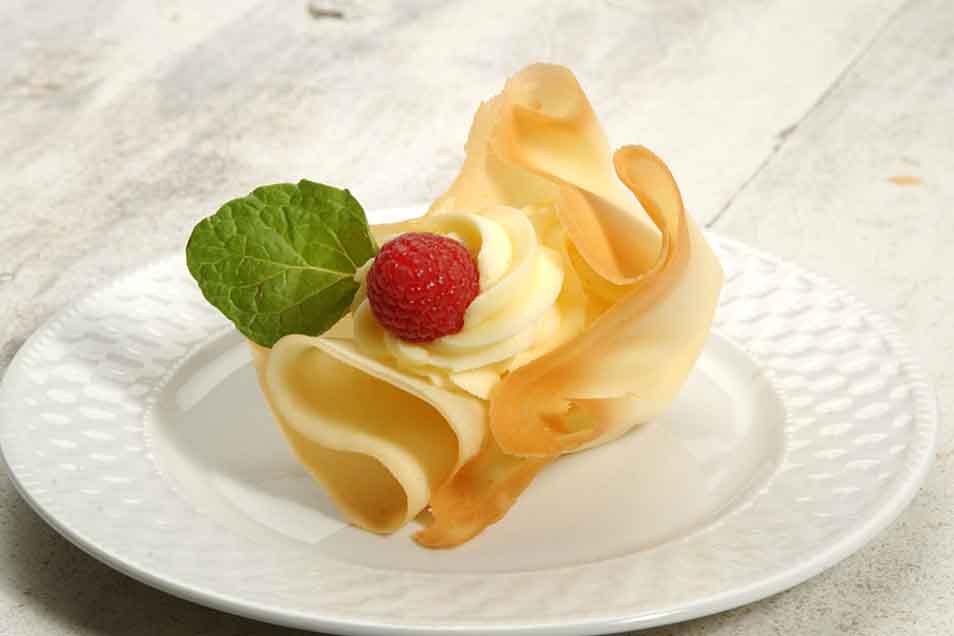 At a Glance
Prep

30 mins. to 40 mins.

Bake

4 mins. to 5 mins.

Total

1 hrs 35 mins. to 1 hrs 45 mins.

Yield

varies by size, approximately 20 cookies
Thin as a whisper, tuile are delicate cookies that can be wrapped and molded while warm to form cups, tubes, mini bowls and even flowers. Filled with pastry cream, mousse, berries or sweetened cream, tuile make a very elegant dessert for special occasions.
Directions
Sift the flour, confectioners' sugar, and salt together twice. Place in a small bowl.

Whisk in the melted butter, egg whites, and vanilla until you have a thin, very smooth batter. If any lumps remain, pass the batter through a fine sieve.

Cover the bowl and refrigerate for 1 to 2 hours, but no longer. Stir and check the consistency of the batter. If it seems thick, add milk 1/2 teaspoon at a time until the batter is thin again. Preheat the oven to 400°F towards the end of the rest/chill time.

Lay a clean sheet of parchment on a flat baking sheet. Scoop out 2 teaspoons of dough, spaced about 5" to 6" apart on the sheet. Make only 2 tuille at a time; you must work with them quickly after they come out of the oven.

Use a thin spreader to smooth the batter out to a 4" to 5" circle. The batter will be nearly transparent. Bake for 4 to 5 minutes, just until the very edge of the circle begins to color.

Working very quickly, peel each tuile off the parchment and form into the desired shape. You can lay the tuile over a rolling pin or wine bottle to form shells; or roll around the handle of a round wooden spoon to form cigars. Use a larger round to form cannoli-sized tubes for filling. For a truly stunning shape, drape a hot tuile over the base of a lightly greased heat-proof shot glass, pressing to form an upside-down flower. Remove the cooled tuile and stand right side up, ready for filling.

Tuile can be stored airtight for up to 10 days, and filled with pastry cream, mousse, sweetened whipped cream, and/or fruit. Fill just before serving so that the delicate tuile don't soften from the moisture in the filling.

Yield: varies by size; approximately 20 cookies.