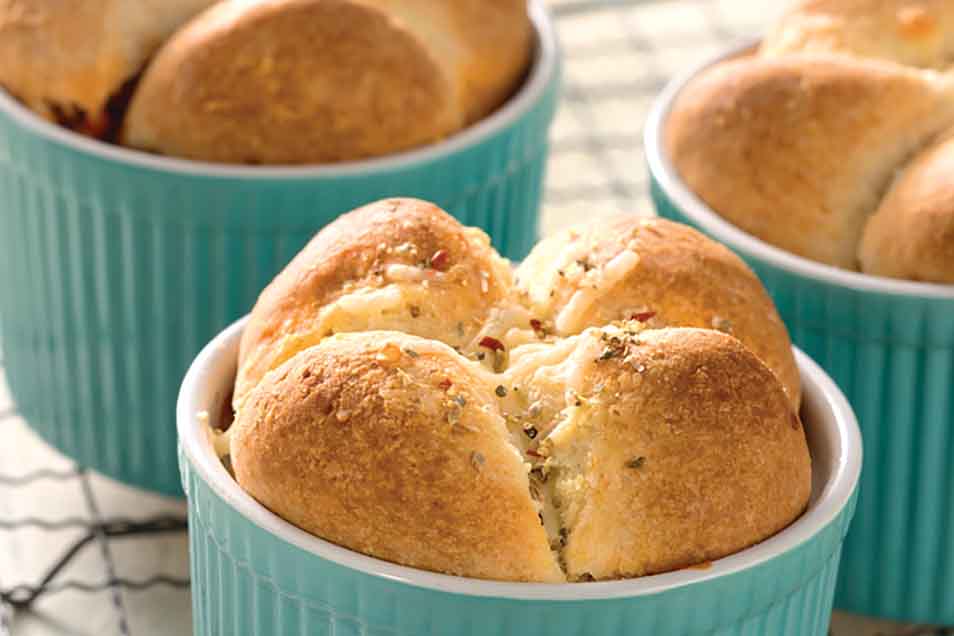 At a Glance
Prep

20 mins. to 30 mins.

Bake

35 mins. to 40 mins.

Total

1 hrs 25 mins. to 1 hrs 40 mins.

Yield

4 to 8 servings
These little nuggets of melted cheese and pepperoni wrapped inside biscuit dough don't use yeast, so they're easy to put together for an impromptu gathering.
Filling
15-ounce can (2 scant cups) pizza sauce
2 ounces sliced pepperoni
1 cup grated mozzarella cheese
Directions
Grease four 10-ounce capacity ramekins or other small, bakeable cups. Make sure whatever you choose can safely go from freezer to oven.

Whisk together the flour, cornstarch, flavor, seasoning, baking powder, and sugar.

Stir in the heavy cream to moisten the dough thoroughly.

Turn the dough out onto a lightly floured work surface, and roll it 1/4" thick.

Use a sharp 2 3/4" square biscuit cutter or a straight-edge and sharp knife to cut the dough into 2 3/4" squares, re-rolling and cutting the dough until you have 32 squares.

Fill the center of each square with 1/4 teaspoon pizza sauce, several pieces of pepperoni, and a heaping teaspoon of mozzarella.

Gather up the four corners of each square; pinch the corners and edges to seal.

Place 8 balls into each of the prepared ramekins. Brush with garlic oil.

Place the ramekins in the freezer for 30 minutes to improve the biscuits' texture and rise. While the biscuits are chilling, preheat the oven to 400°F.

Bake the biscuits for 35 to 40 minutes, until golden brown.

Remove them from the oven, cool for 5 minutes, and serve with the extra pizza sauce for dipping.

Yield: 4 to 8 servings.