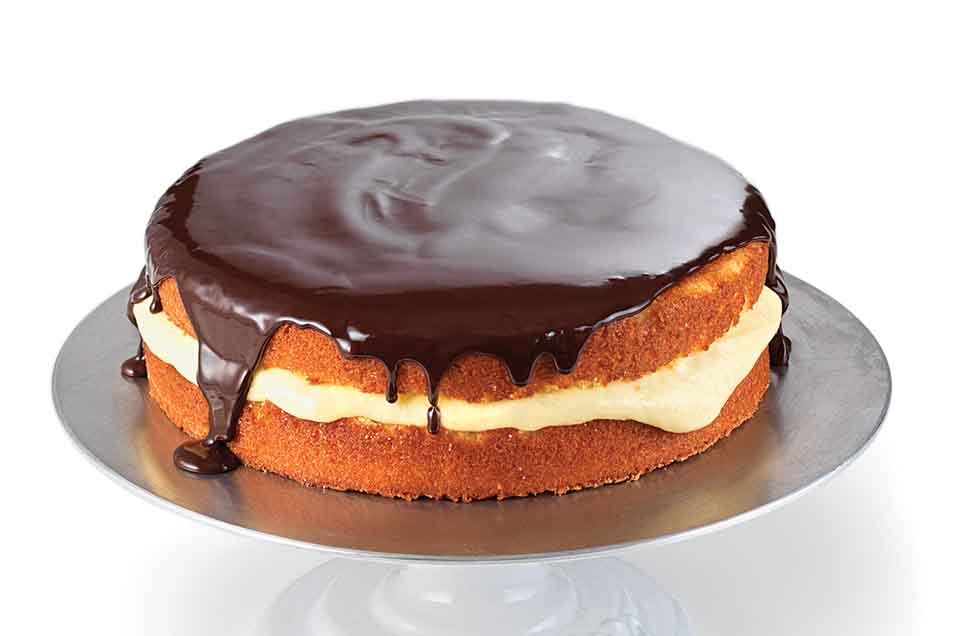 At a Glance
Prep

45 mins. to 55 mins.

Bake

50 mins. to 55 mins.

Total

3 hrs 57 mins. to 6 hrs 10 mins.

Yield

one 9" cake, 10 to 12 servings
Boston Cream Pie is a truly classic dessert. Two layers of rich yellow cake are sandwiched around a thick layer of pastry cream, and topped with a soft, dark chocolate glaze.
Cake
2 large eggs, at room temperature
1 1/2 cups granulated sugar
1 teaspoon vanilla extract
1 1/2 cups King Arthur Unbleached Cake Flour Blend or King Arthur Unbleached All-Purpose Flour
1 1/2 teaspoons baking powder
3/4 teaspoon salt
3/4 cup milk
5 tablespoons unsalted butter
Filling
1 1/2 cups pastry cream, made without the additional whipped heavy cream
Glaze
1/2 cup heavy or whipping cream
1 tablespoon corn syrup
3/4 cup chopped dark chocolate or semisweet chocolate chips
1/2 teaspoon vanilla extract
Directions
Note: Thanks to reader feedback, as of 6/9/15 this recipe has been amended as follows, to produce a moister cake with better flavor and a more reliable rise: the baking temperature has been reduced from 350°F to 325°F; 3 eggs have been reduced to 2 eggs; 1 tablespoon butter has been increased to 5 tablespoons butter; 1/2 teaspoon salt has been increased to 3/4 teaspoon salt.

Preheat the oven to 325°F. Spritz a 9" x 2" round cake pan with non-stick vegetable oil spray, line it with parchment, and spritz the parchment. Note: make sure your cake pan is at least 2" deep.

To prepare the cake: In the bowl of your stand mixer, beat the eggs and sugar until very thick, until the batter falls from the paddle in thick ribbons. This will take several minutes. Beat in the vanilla.

Place the flour, baking powder, and salt into a sifter or sieve and sift over the cake batter. Mix on low speed just until combined, about 1 minute.

Bring the milk and butter to a simmer in a small saucepan. Slowly stream it into the batter with the mixer going, and beat for another minute.

Pour the batter into the prepared pan, checking carefully for lumps of flour. Remove any lumps with a small spoon and discard. Bake the cake for 50 to 55 minutes, or until it's a deep golden brown and beginning to pull away from the sides of the pan.

Remove the cake from the oven, run a nylon spreader or table knife around the edges, and set aside to cool for 10 minutes. Turn the cake onto to a rack to cool completely.

When the cake is completely cool, use a long, sharp serrated knife to slice into two equal layers. Fill with the pastry cream, spreading it right to the edges. Replace the top layer.

Prepare the glaze by melting the chocolate, corn syrup, and cream together until smooth and lump free. Add the vanilla and stir well. Pour the glaze over the filled cake and serve immediately. Store any leftovers in the fridge, well wrapped in plastic.

Yield: one 9" cake, 10 to 12 servings.
Tips from our bakers
Want to make individual cakes? Simply bake the cake as cupcakes, filling each well about 2/3 to 3/4 full. Split, spread with filling, and ice with chocolate glaze.