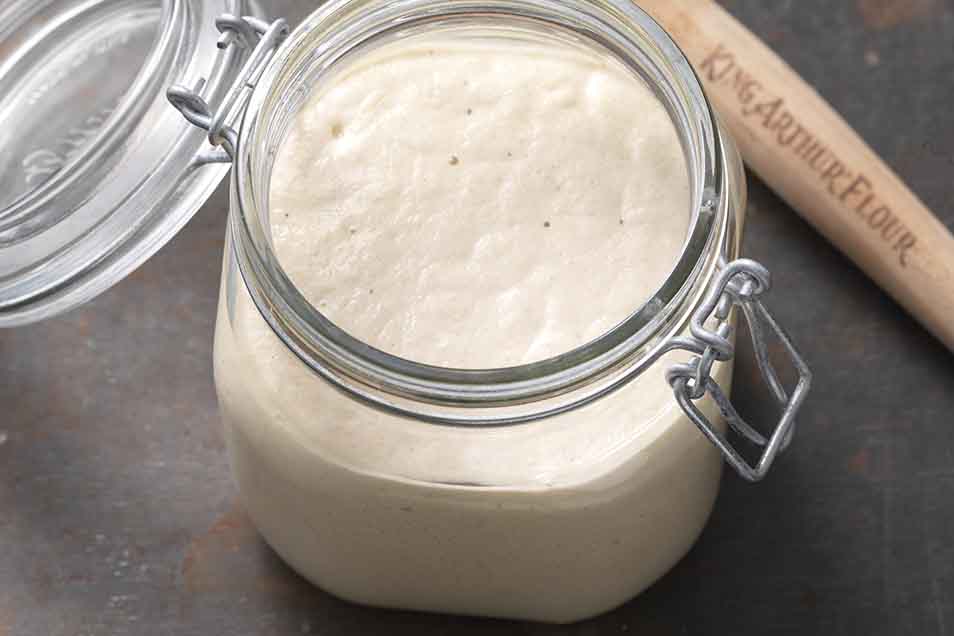 At a Glance
Prep

20 mins. to 30 mins.

Bake

Total

4 days 20 mins. to 4 days 12 hrs 30 mins.

Yield

about 1 1/4 cups starter

Overnight
Add tangy zest to your breads and other baked treats with this gluten-free sourdough starter. Just a few ingredients and 4 days of nurturing bring you this exciting addition to your gluten-free baking world.
Directions
Day 1: Mix together the flour and water in a medium-sized bowl, stirring until thoroughly combined. Cover the bowl, and let the mixture rest overnight at room temperature.
Day 2: Discard half the starter, and feed the remainder with 1/2 cup + 1 tablespoon (128g) cool water and 1 cup (121g) Measure for Measure flour.
Days 3, 4, 5... Repeat the process from Day 2. Sometime between days 5 and 10, you'll notice that within several hours after feeding the starter will have grown in size to between 2 1/4 and 2 3/4 cups. At this point it's ready to use in your recipe. If it takes longer than this, simply keep repeating the once-a-day feeding process until it matures fully; bubbling nicely, and doubling in size within several hours after feeding.
Tips from our bakers
Try this starter in our Gluten-Free Sourdough Flatbread and our Gluten-Free Sourdough English Muffins.
For a fun experiment, try substituting 1/2 cup starter for 1/2 cup of the flour and 2 ounces (1/4 cup) of the liquid in our gluten-free blueberry muffin recipe or any other muffin, cake or quick bread of your choice.
For tangier yeast bread recipes, try using 1 cup starter in place of 1/2 cup water and 1 cup flour.
Sourdough starter is best stored in the fridge in a stoneware crock or glass container with a loose-fitting lid. You should observe the same procedures for care and maintenance as for a wheat-based starter.