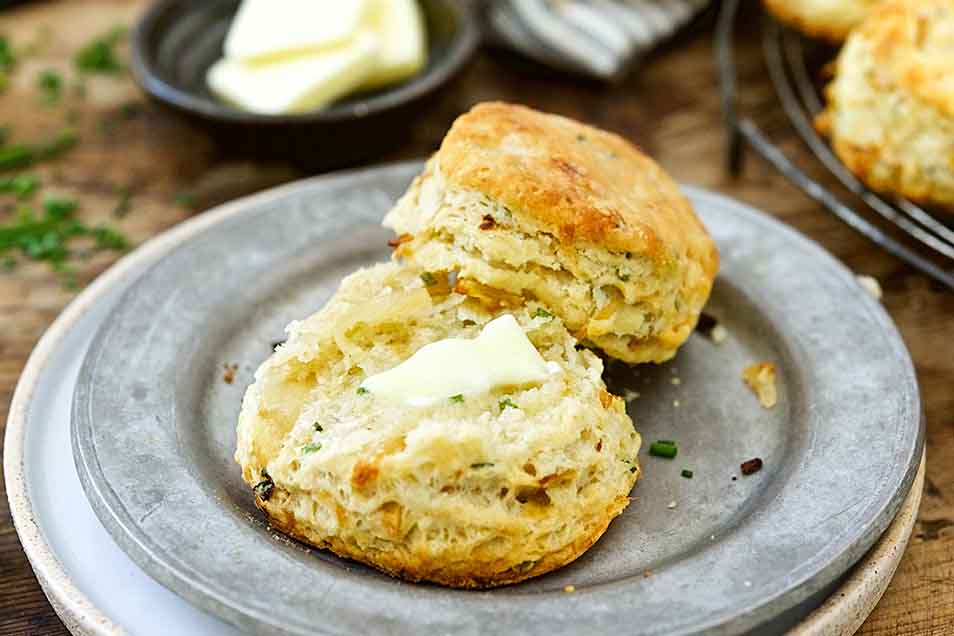 At a Glance
Prep

45 mins. to 50 mins.

Bake

18 mins. to 20 mins.

Total

4 hrs 33 mins. to 5 hrs 10 mins.

Yield

eight 2 1/2" biscuits
These biscuits are perfectly balanced, taste-wise: the tanginess of sourdough complements the sweetness of caramelized onions. End result: total deliciousness!
14g unsalted butter
113g peeled onion, sliced thinly
25g brown sugar
2 teaspoons baking powder
3/4 teaspoon salt
113g cold unsalted butter
11g fresh chives, chopped
227g sourdough starter, unfed/discard
Directions
Combine the butter, onion, and sugar in a pan set over medium-low heat. Cook the onions, covered, for about 30 minutes, stirring every 5 minutes; they should be nicely caramelized. Transfer the onions to a bowl, cool to room temperature, then refrigerate until well chilled, at least 3 hours.

Preheat the oven to 425°F. Grease or line a baking sheet with parchment.

Combine the flour, baking powder, and salt. Work the butter into the flour until the mixture is unevenly crumbly.

Toss in the chives and caramelized onions.

Add the starter, mixing until the dough is cohesive. Turn the dough out onto a lightly floured surface and use a bench knife or bowl scraper to fold it over on itself five or six times, until it comes together.

Pat the dough into a 1"-thick disk.

Use a sharp 2 1/2" biscuit cutter to cut rounds. Pat the scraps together, and cut additional biscuits.

Bake the biscuits for 15 to 18 minutes, until they're just turning golden.

Remove the biscuits from the oven, and serve warm with a little bit of butter.

Yield: eight 2 1/2" biscuits.
Tips from our bakers
Brush the biscuits with butter before baking, if desired, for extra color and flavor. Brush them with butter again once they come out of the oven, for over-the-top richness.