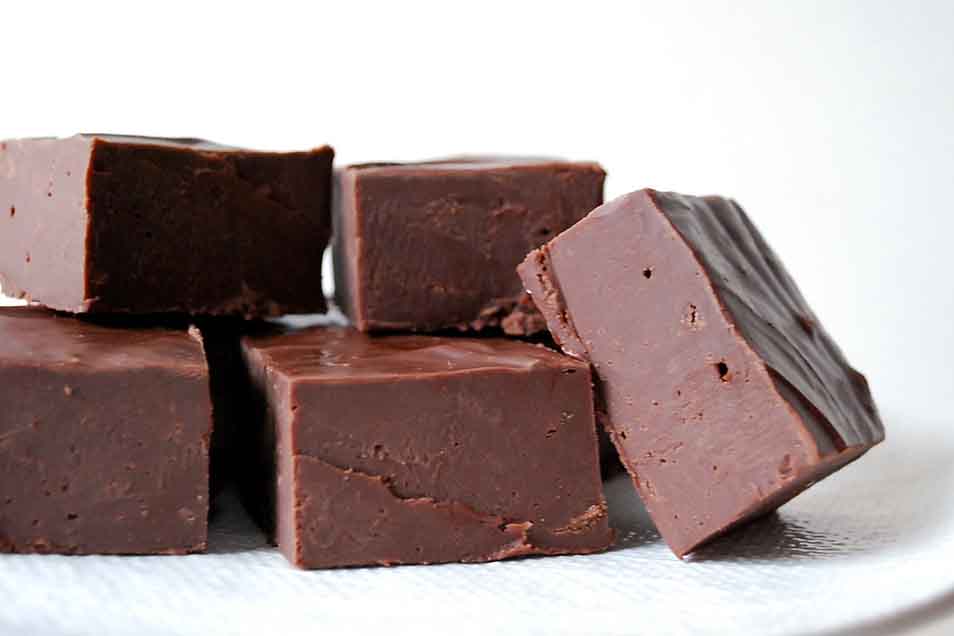 At a Glance
Prep

15 mins. to 20 mins.

Bake

Total

2 hrs 15 mins. to 2 hrs 30 mins.

Yield

2 pounds candy
A quicker version of traditional stove top fudges, these sweet treats hit the spot when time is of the essence. Melt a little chocolate, make it creamy with condensed milk and jazz up the flavors... BANG! You've got a fudge-y candy perfect for gift giving and holiday cookie swaps. Note: Please read the tip at the end about what kind of chocolate makes fudge with the best texture.
Basic Chocolate Fudge
2 cups chocolate chips or chopped semisweet or bittersweet chocolate*
one 14 ounce can sweetened condensed milk
2 tablespoons cold butter
2 teaspoons vanilla extract
*See "tips," below.
Directions
In a microwave-safe bowl, melt the chocolate chips on high for one minute. Stir, then microwave again for 30 seconds. Be sure to check and stir the chocolate as it melts. Chips will hold their shape and not melt unless stirred.

Add the condensed milk and stir until it is all incorporated into the chocolate. The mixture will thicken up a little as you stir. This is normal.

Cut the cold butter into small pieces, about the size of playing dice. Top the chocolate mixture with the butter and return to the microwave for another 30 to 45 seconds, until the butter is melted. Stir well.

Finally, add the vanilla, stir until smooth and pour into a buttered 9" x 5" loaf pan.

Chill for at least 2 hours before cutting and serving. Store at room temperature or can be frozen for up to 4 weeks.
Tips from our bakers
For best texture and "slice-ability," choose chocolate whose main ingredient isn't sugar. We've found that using chocolate chips that list sugar as the main ingredient produce fudge that's very soft and hard to slice.
Chocolate mint version: Use 1 cup each of chocolate chips and mint chips. Garnish the soft fudge with extra mint chips before chilling.
Chocolate walnut fudge: Stir in 1/2 cup chopped walnut pieces along with the vanilla. Garnish with more nuts before chilling.
Butterscotch pumpkin spice fudge: Swap the chocolate chips for good quality butterscotch chips. Add 1/4 cup pumpkin puree and 1/2 teaspoon of pumpkin pie spice along with the vanilla. Delicious topped with toasted pecans!