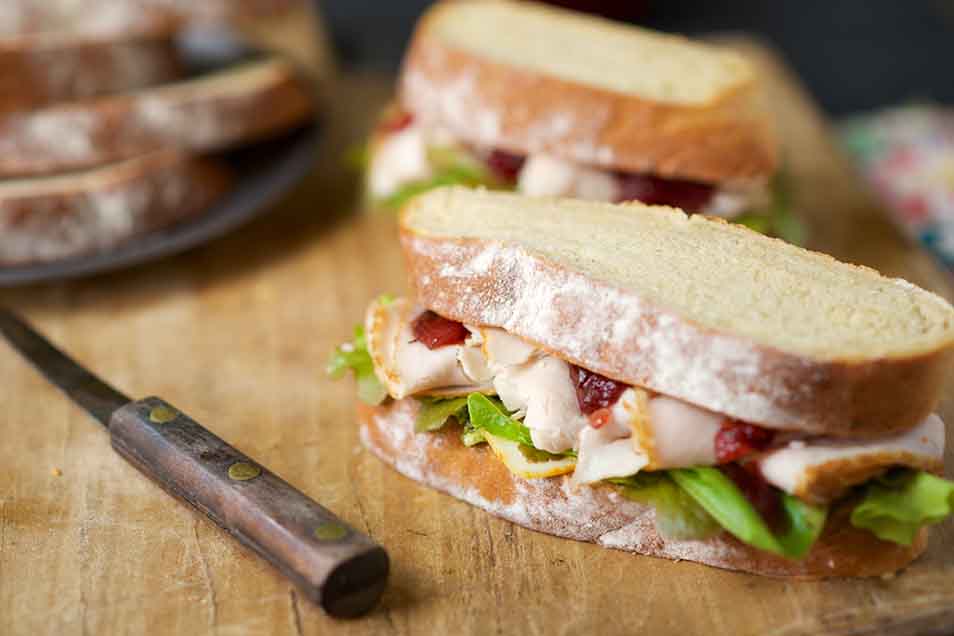 At a Glance
Prep

15 mins. to 20 mins.

Bake

35 mins. to 45 mins.

Total

4 hrs 20 mins. to 5 hrs 5 mins.

Yield

1 large loaf
Black Friday — the day after Thanksgiving — is equal parts shopping and leftovers. Turkey sandwiches are a must; but what do you do with all those leftover bits of stuffing, mashed potatoes, squash, creamed onions... Well, kill two birds with one stone: make a delicious sandwich loaf, AND use those other leftovers from the Turkey Day meal right in the bread itself. This moist, flavorful bread slices beautifully; and when you use stuffing as one of the ingredients, its mild herb flavor is perfect for a turkey sandwich.
1 cup King Arthur White Whole Wheat Flour
2 1/2 cups King Arthur Unbleached Bread Flour
2 tablespoons soft butter
1 to 1 1/4 teaspoons salt, to taste
1 tablespoon sugar
2 1/2 teaspoons instant yeast
2/3 cup lukewarm milk
1 cup prepared stuffing
1 cup mashed potatoes, white or sweet
Directions
Place all of the ingredients in a bowl (or the bowl of your stand mixer; or a bread machine bucket); and mix and knead to make a smooth, elastic, and somewhat sticky dough. The dough will feel tacky, but should hold its shape nicely; you should be able to handle it easily with greased hands.

Place the dough in a lightly greased bowl or 8-cup measure (for easiest tracking of the dough as it rises). Allow it to rise until it's quite puffy, 1 1/2 to 2 hours.

Gently deflate the dough. Shape it into an 11" to 12" log, and place it on a parchment-lined or lightly greased baking sheet.

Cover the loaf with lightly greased plastic wrap or a dough cover (the plastic cover of a disposable supermarket deli tray or cake platter may work well for you here), and let the loaf rise until it's noticeably puffy, 1 1/2 to 2 hours. Towards the end of the rising time, preheat the oven to 350°F.

Bake the bread for 35 to 45 minutes, until it's golden brown on top, and an instant-read thermometer inserted into the center registers at least 190°F.

Remove the bread from the oven, and place it on a rack to cool. When completely cool, wrap airtight and store at room temperature for 3 to 4 days; freeze for longer storage.
Tips from our bakers
Taste the bread dough once it's mixed, but before kneading; you may need to adjust the salt, depending on whether or not the add-ins you chose were salty.
We've used 1 cup each stuffing and mashed white potatoes for the loaf pictured above. Feel free to substitute your own combination of stuffing and/or mashed root vegetables or sides: turnip, sweet potatoes, applesauce, squash, parsnips...
You'll have to play the amount of flour/liquid somewhat by ear (or eye); depending on how moist your add-ins, you may need to add either additional bread flour, or additional milk or water. Your goal is a soft (but not challengingly sticky) dough.
Can you substitute unbleached all-purpose flour for the bread flour, and/or the whole wheat flour? Sure; reduce the amount of milk to 1/2 cup, adding additional milk or water if the dough seems dry and stiff. Your loaf may not rise as high.
Want to make a delicious stuffing/cranberry sandwich loaf? Instead of 2 cups add-ins of your choice, substitute 1 cup stuffing and 3/4 cup dried cranberries. Reduce the total amount of flour to 3 cups, cutting back on either the bread flour, or the white wheat (or both). Place the loaf in a 9" x 5" bread pan, let it rise, and bake in a preheated 350°F oven for 35 to 40 minutes, until an instant-read thermometer inserted into the center registers at least 190°F.