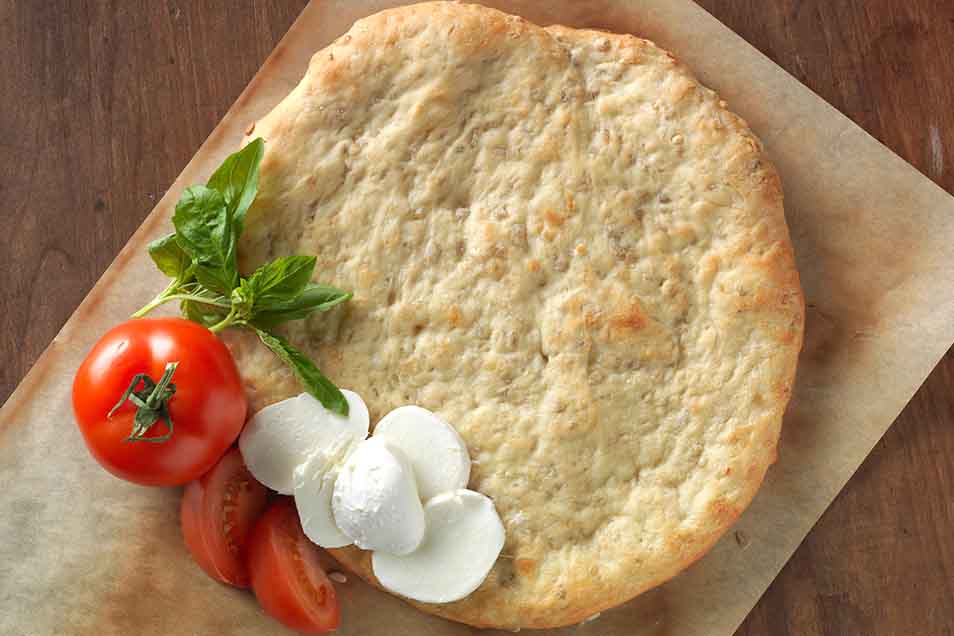 At a Glance
Prep

20 mins. to 30 mins.

Bake

20 mins. to 30 mins.

Total

3 hrs to 3 hrs 10 mins.

Yield

two standard crusts or one large crust
This light and flavorful crust contains two surprising ingredients. First, a bit of self-rising flour gives tenderness and extra lift. Then, ground sunflower seeds add crunch and flavor. The nuttiness of the crust pairs well with more exotic pizza toppings like shrimp, curry and basil.
2 teaspoon instant yeast
1 tablespoon salt
1 3/4 cups water
1/3 cup sunflower seeds, measured then ground
3 tablespoons olive oil, plus extra for the pan
Directions
Mix and knead together all the dough ingredients — by hand, mixer, or bread machine — to create a soft dough that's slightly tacky to the touch. Due to the seeds, it won't be perfectly smooth, but should be moist and elastic.

If you'd made the dough in a bread machine, go straight to step 3. If you made the dough by hand or stand mixer, allow the dough to rise, covered, for one hour.

Preheat the oven to 400°F. Pour a generous amount of olive oil into your chosen pan(s). The recipe will make 2 standard-sized round pizzas, or one large rectangular pizza, half-sheet sized.

Spread the dough into the pan and stretch it out thinly. As soon as it starts to shrink back, walk away and let it rest for 10 minutes. Stretch out the dough some more and repeat until you're happy with the size of the crust.

Allow the dough to rise another 20 to 30 minutes. Top with your chosen toppings and bake 20 to 30 minutes, until the crust is browned and crisp and the toppings are heated through.

Yield: 2 standard round crusts or 1 large rectangular crust.