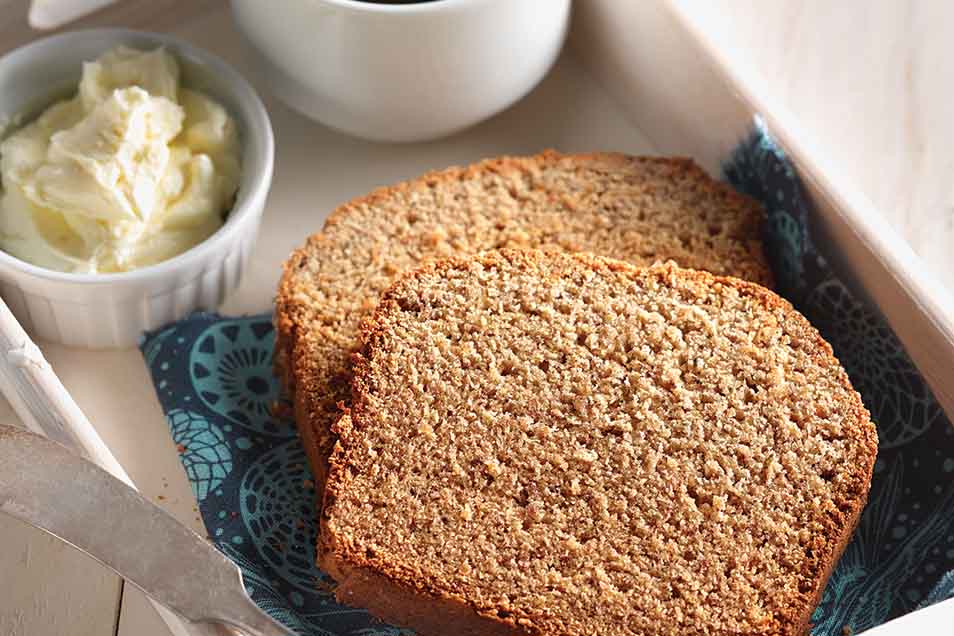 At a Glance
Prep

15 mins. to 20 mins.

Bake

45 mins. to 55 mins.

Total

60 mins. to 1 hrs 15 mins.

Yield

1 loaf, 16 servings
Would you like a banana bread recipe that's healthy, nutty, lower in sugar, AND gluten-free? You'll love this moist, flavorful loaf studded with coconut and flax meal. Go gluten-free AND bananas at the same time!
1 3/4 cups Gluten-Free Multi-Purpose Flour
1/4 cup whole flax meal
1 teaspoon baking soda
1/2 teaspoon salt
3/4 teaspoon xanthan gum
3 tablespoons Cake Enhancer, optional
1 1/2 teaspoons ground cinnamon
1/4 teaspoon ground nutmeg
3/4 cup brown sugar
1/2 cup vegetable oil
3 large eggs
2 cups (3 large or 4 small) mashed ripe bananas
3/4 cup unsweetened shredded coconut
1/2 teaspoon King Arthur Pure vanilla extract
1/4 teaspoon banana flavor, optional
Directions
Grease a 9" x 5" loaf pan and preheat your oven to 350°F.

In a medium-sized mixing bowl combine the flour, flax meal, baking soda, salt, xanthan gum, cake enhancer, cinnamon, and nutmeg and set aside.

In a separate bowl, combine the brown sugar and oil until well-blended. Add the eggs one at a time, beating until well-incorporated.

Stir the dry ingredients into the wet ingredients, and beat on medium speed for about 30 seconds, until well combined.

Stir in the banana, coconut, and flavors, and blend well.

Pour the batter into the loaf pan and bake for 45 to 55 minutes, or until the bread's internal temperature reaches 210°F. Allow the bread to cool in the pan for about 10 minutes before turning it out onto a rack. Cool completely before cutting.

Yield: 1 loaf, 16 servings.
Tips from our bakers
It's often difficult to be sure gluten-free quick breads are fully baked in the middle. A cake tester inserted into the center may come out crumb and batter free before the bread is fully baked; thus, using an instant-read thermometer is a good idea.
To make this bread using coconut flour: Reduce the gluten-free flour to 1 1/2 cups; and add 1/2 cup coconut flour along with the flax. Reduce the vegetable oil to 1/4 cup; and substitute 1 teaspoon vanilla extract for the 1/2 teaspoon vanilla and 1/4 teaspoon banana flavor. Bake the bread for 55 to 60 minutes, until its internal temperature reaches at least 200°F.