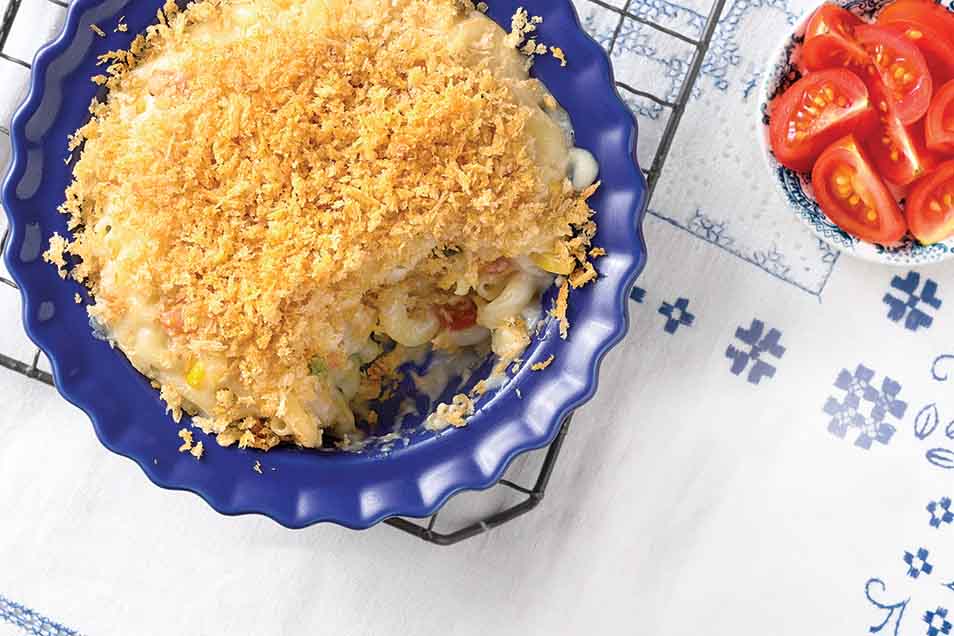 At a Glance
Prep

45 mins. to 60 mins.

Bake

25 mins. to 35 mins.

Total

1 hrs 10 mins. to 1 hrs 35 mins.

Yield

6 cups, about 4 servings
Macaroni and cheese with a south-of-the-border twist.
Macaroni
8 ounces (about 2 cups) uncooked elbow macaroni or the pasta of your choice
2 3/4 cups milk
1/2 cup Vermont cheese powder or grated Parmesan cheese
2 cups shredded cheddar cheese
1/2 teaspoon ground black pepper
1/4 to 1/2 teaspoon cayenne pepper, to taste
1/4 to 1/2 teaspoon salt, to taste
1 tablespoon butter
1/2 cup diced onion (1/2 medium onion)
1/4 cup seeded, sliced jalapeño peppers (about 2 medium)
1/2 cup fresh or frozen/thawed corn
1/2 cup seeded, diced tomato (1 medium tomato)
Topping
4 tablespoons butter
1 1/2 cups coarse, dry bread crumbs (e.g., Panko)
1/8 teaspoon cayenne pepper
Directions
Preheat the oven to 350°F. Grease four 1 1/2-cup (12-ounce) porcelain baking dishes, or a 2-quart casserole dish.

To make the macaroni: Cook the pasta in boiling salted water according to the package directions. Drain and rinse with cool water.

In a large saucepan set over medium heat, whisk together the Signature Secrets or flour, milk, and cheese powder. Bring to a boil.

Remove from the heat and add the cheese and seasonings, stirring until the cheese is completely melted.

In a small skillet, melt the butter and sauté the onions and peppers until they start to soften. Stir in the corn and tomato.

Stir the pasta and vegetable mixture into the cheese sauce. Spoon into the baking dishes.

To make the topping: Melt the butter, then stir in the bread crumbs and cayenne.

Sprinkle a thick layer of topping over the pasta and cheese.

Bake the macaroni for 25 to 35 minutes, until bubbly and browned. Remove from the oven, and serve hot.

Yield: 6 cups, about 4 servings.