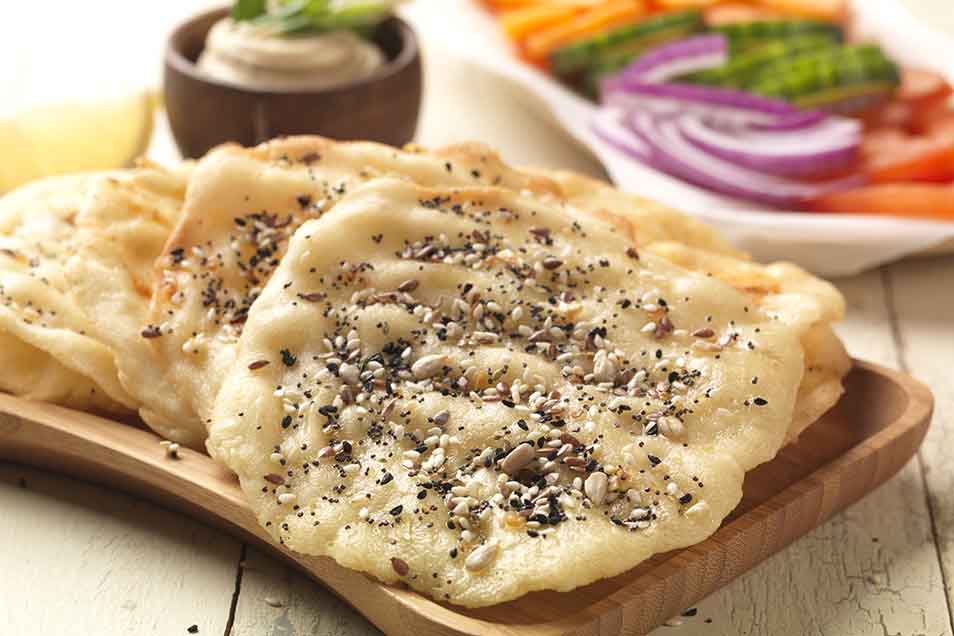 At a Glance
Prep

15 mins. to 20 mins.

Bake

5 mins. to 10 mins.

Total

1 hrs 35 mins. to 2 hrs 15 mins.

Yield

1 1/2 dozen 4" to 5" rounds
If you're looking for a great-tasting and versatile gluten-free bread, try toasting these tangy sourdough flatbreads as a snack for your favorite dips and spreads; or use them as rounds with your favorite sandwich fillings.
Directions
Place the starter into a mixing bowl. In a separate bowl, whisk together the flour, yeast, xanthan gum, sugar, and salt; add to the starter. Use an electric mixer (hand or stand) to mix on low speed until just combined.

Add the olive oil, egg, and water, and beat on high speed for 2 to 3 minutes. The batter will have a thick, paste-like consistency.

Allow the dough to rest for 1 to 1 1/2 hours, or until puffy. The rise won't be dramatic.

Preheat your oven to 500°F. Stir the dough to deflate it. Brush three pieces of parchment paper with olive oil, and set them on three baking sheets.

Using a jumbo cookie scoop (2-tablespoon capacity), portion dough onto the paper and, with oiled hands or pastry roller, flatten it into a 4" to 5" round. Sprinkle with seeds or topping seasonings if desired. Repeat with the remaining dough; you should be able to get about 6 rounds onto each baking sheet.

Place the baking sheet(s) into the oven, or transfer the parchment directly to a preheated pizza stone. Bake for 5 minutes; for crispier breads, bake an additional 3 to 5 minutes, until the edges are golden brown. Cool on a rack; or serve warm from the oven.

Yield: 18 flatbreads.
Tips from our bakers
If you're using a pastry roller to shape the rounds, grease another sheet of parchment to place over the dough to prevent the roller from sticking to the dough.