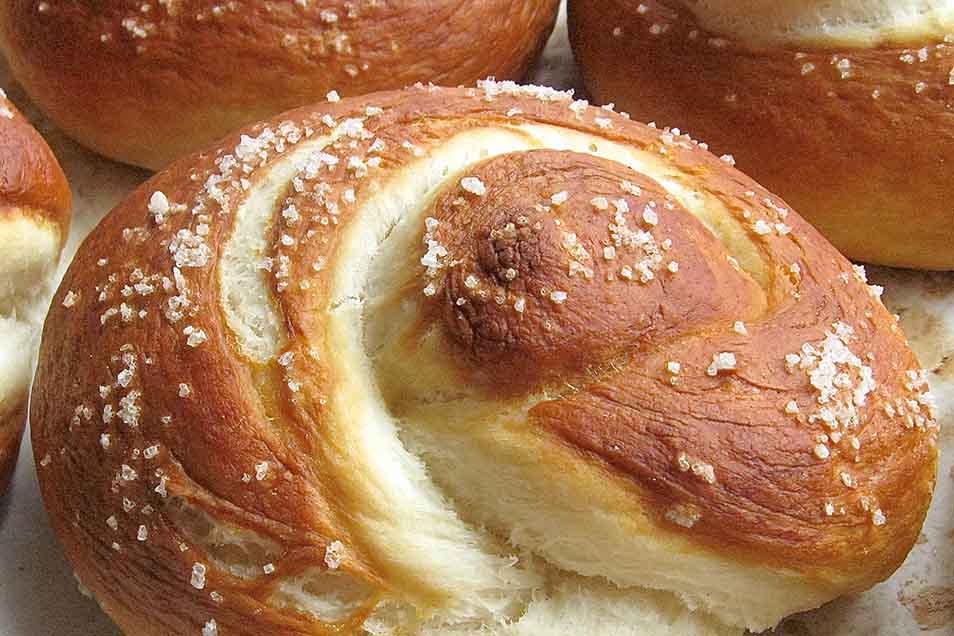 At a Glance
Prep

20 mins. to 35 mins.

Bake

20 mins. to 24 mins.

Total

1 hrs 57 mins. to 2 hrs 16 mins.

Yield

8 rolls
With their light though chewy texture, and signature metro street vendor, soft pretzel flavor, you'd never know these rolls are full of fiber.
Hi-maize Fiber,
the "invisible" way to increase the fiber in your baked treats, adds 4g fiber to each of these delicious rolls.
Topping
coarse sea salt, kosher salt, or pretzel salt
Water bath
1 1/2 to 2 quarts water
1 tablespoon salt
1/4 cup baking soda
Directions
Combine all of the dough ingredients, and mix and knead — by hand, stand mixer, or bread machine set on the dough cycle — to make a smooth, fairly soft dough. It'll probably stick to the bottom of the bowl just slightly, if you're kneading in a stand mixer.

Place the dough in a lightly greased bowl (or 8-cup measure), and let it rise for 60 to 90 minutes, until it's very puffy.

Gently deflate the dough, and divide it into 8 pieces. Pat each piece into a rough log, cover, and let rest for 10 minutes, to relax the dough's gluten and make it easier to shape the rolls.

Roll each piece of dough into a 16" rope. Shape ropes into tight pretzels, tucking the two ends through the center and squeezing them together underneath. Press the rolls down gently, to flatten.

Lightly grease a baking sheet, or line it with parchment. Place the rolls on the baking sheet, cover them, and let them rest for 15 minutes.

While the rolls are resting, preheat the oven to 400°F. Prepare the water bath by combining the water, salt, and baking soda in a 10" to 12" shallow saucepan or deep skillet; The water should fill the skillet at least 1 1/4" deep; adjust the amount accordingly (no need to adjust the other ingredients). Bring the mixture to a boil.

Drop the rolls, 3 or 4 at a time, into the water bath. Cook for 30 seconds; turn over, and cook for an additional 30 seconds.

Place the rolls back on the baking sheet. Sprinkle with coarse sea salt.

Bake the rolls for 20 to 24 minutes, until they're a deep golden brown. Remove them from the oven, and cool on a rack.

Store at room temperature, tightly wrapped, for several days; freeze for longer storage.

Yield: 8 rolls.
Tips from our bakers
Want to make these rolls without the Hi-maize? Substitute all-purpose flour, increasing the water in the dough to 1 3/4 cups.
Want to make slightly smaller rolls? Divide the dough into 10 pieces instead of eight; shape and bake as directed for eight rolls.