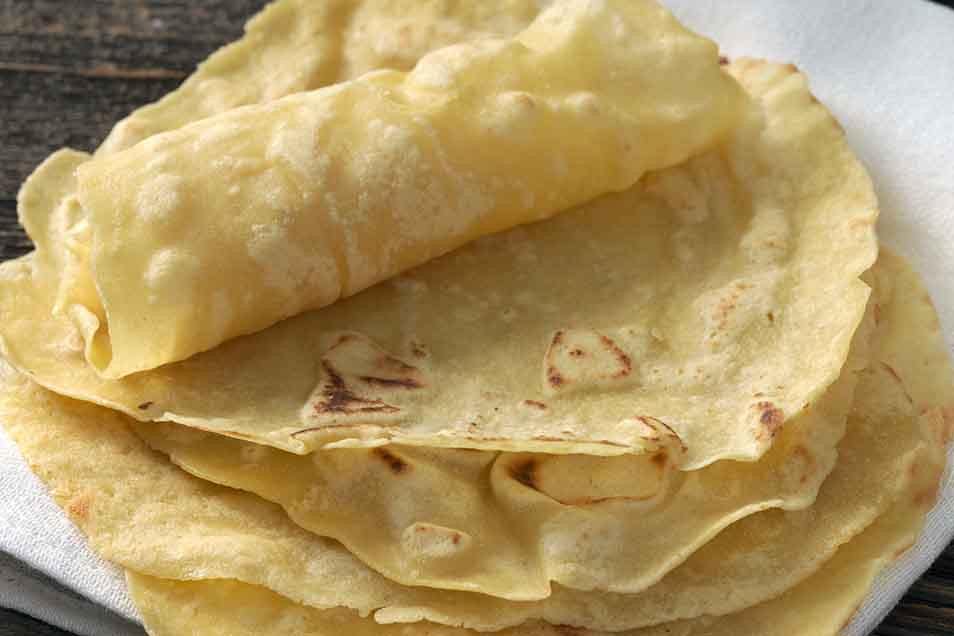 At a Glance
Prep

20 mins. to 30 mins.

Bake

18 mins. to 20 mins.

Total

38 mins. to 50 mins.

Yield

18 medium (6") tortillas
Store-bought tortillas can be both bland and expensive. Here's an easy tortilla recipe with the healthy benefits of chickpea flour; they're lower in carbs, and bound to take your sandwich wraps and burritos to a higher level of flavor.
Directions
Place the flours, salt and xanthan gum in the bowl of your mixer and stir to combine.

Add the water, oil and egg and blend well, turning the mixer to medium-high speed for about 1 minute. The dough should be very thick.

Allow the dough to rest for about 15 minutes. While it's resting, prepare several sheets of half-sheet parchment paper by cutting them in half and spraying one side of each piece with oil.

Preheat your stove-top or electric griddle to medium heat. Scoop a 2-tablespoon ball of dough onto a piece of the parchment; a jumbo cookie scoop works well here. Cover with another piece of parchment, making sure that the oiled sides are touching the dough. Using a rolling pin or pastry roller, roll the dough into a 6 1/2" circle.

When the griddle is hot, peel back the paper on one side of a tortilla and flip it, paper-side up, onto the griddle. After 10 to 15 seconds, peel off the second piece of paper by pulling it directly backward and away from you; it should peel away cleanly. Flip the tortilla immediately and cook for another 10 to 15 seconds.

Repeat with the remaining tortillas, placing as many on the griddle as will fit.

Serve warm or cool before wrapping and storing.

Yield: 18 medium (6") tortillas.
Tips from our bakers
You can reuse the parchment, so you only need to have enough pieces prepared to accommodate the number of tortillas you can fit on your griddle at one time. However, if you want to have all the rolling out done ahead of time, just go ahead and use new pieces of parchment for each tortilla.
Tortillas will keep, well-wrapped, at room temperature for about 2 days. For best results and warm, soft tortillas, wrap in a damp towel and heat briefly in the oven or microwave before serving. You can also freeze them; then thaw, and warm as directed above.
Once the tortillas have passed on to dry and brittle, spritz them with some water and sprinkle with some of Susan Reid's wonderful cracker seasoning combos from the Baking Sheet: Onion powder, salt and paprika, or those same three ingredients with the addition of chili powder and pepper. Throw them into the oven and toast them until they are crispy.