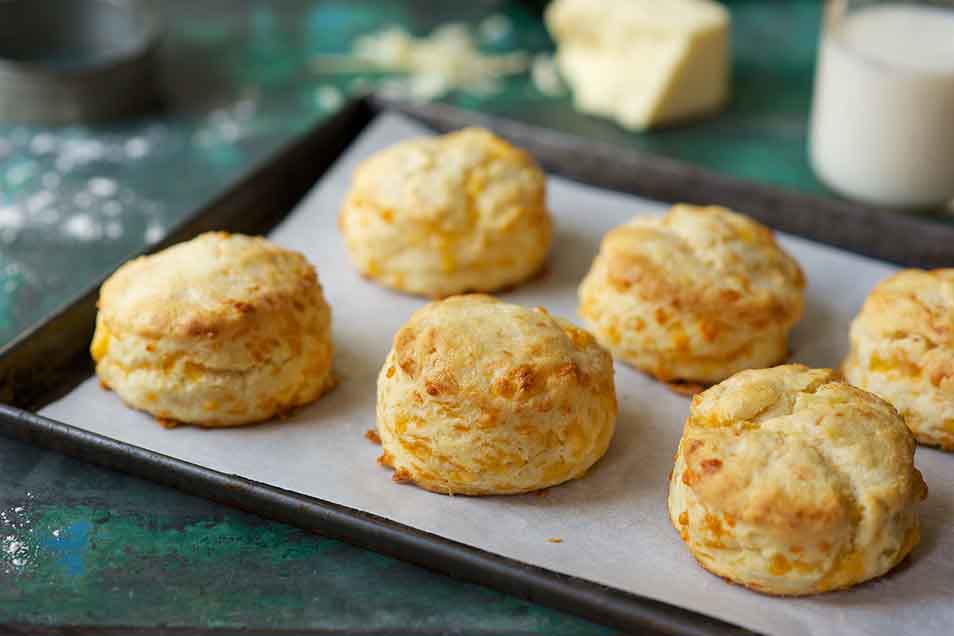 At a Glance
Prep

10 mins. to 15 mins.

Bake

15 mins. to 18 mins.

Total

25 mins. to 33 mins.

Yield

12 to 17 medium (2") biscuits
These tasty biscuits, ultra-tender thanks to the addition of both heavy cream and cheese, go together in a flash. Amazingly, they include just three ingredients: self-rising flour, cream, and cheddar cheese. Once shaped, they can be baked immediately, or frozen for a later date. Easy, versatile, and delicious — that's a win, win, WIN!
4 ounces cheddar cheese, the sharper the better; we prefer Cabot extra-sharp
1 cup heavy cream
Directions
Preheat your oven to 425°F, with a rack in the upper third.

To make the biscuits using a food processor: Cut the cheese into a few chunks. Place the cheese and flour into the work bowl of your food processor.

Process until the mixture is smooth; the cheese will be very finely chopped.

Add the cream, and pulse until the dough becomes cohesive. Transfer the dough to a lightly floured work surface.

To make the dough by hand: Grate or shred the cheese; you should have about 1 cup. Toss it together with the flour.

Add the cream, stirring to make a cohesive dough. Transfer the dough to a lightly floured work surface.

Pat the dough into a disc 3/4" to 1" thick; the thicker the disc, the taller the biscuits.

Use a 2" cutter (or the size of your choice) to cut rounds. Place the biscuits on an ungreased or parchment-lined baking sheet. Brush the tops of the biscuits with cream or milk, if desired; this will help brown their crust.

Bake the biscuits for 15 to 18 minutes, until they're golden brown. Remove them from the oven, and serve immediately.
Tips from our bakers
To make soft-sided biscuits, place the biscuits close together on the baking sheet; their sides should be nearly touching. For biscuits with a crisp crust, space them 1" apart.
Can you make these biscuits with light cream, half & half, whole milk, reduced-fat milk, or skim milk? Absolutely; the lower down the fat scale you go, the less liquid you'll need to bring the dough together — and, of course, the less tender your biscuits will be.
For best cheese flavor, use a top-quality, extra-sharp cheddar. We like Cabot Extra Sharp or Seriously Sharp. For extra cheesy biscuits (think Cheese-Its style) try adding up to 1/4 cup of Vermont cheese powder along with the flour.
Why the wide range in yield? Dough patted 3/4" thick will yield about 16 to 17 biscuits; pat the dough 1" thick, you'll get about a dozen.
This recipe is easily scaled up or down, to make more or fewer biscuits. Just keep this formula in mind: equal parts flour and cream, by weight; and half as much cheese, again by weight.
This is a great recipe to shape and freeze ahead for a later date. Place the shaped biscuits on a baking sheet, and freeze. Once they're frozen, transfer them to a plastic bag and replace in the freezer. Bake frozen biscuits (no need to thaw) in a preheated 425°F oven for about 25 minutes, until they're golden brown.
Don't have any self-rising flour on hand? Use 2 cups less 2 tablespoons all-purpose flour; and add 1 tablespoon baking powder, plus 1 teaspoon salt.