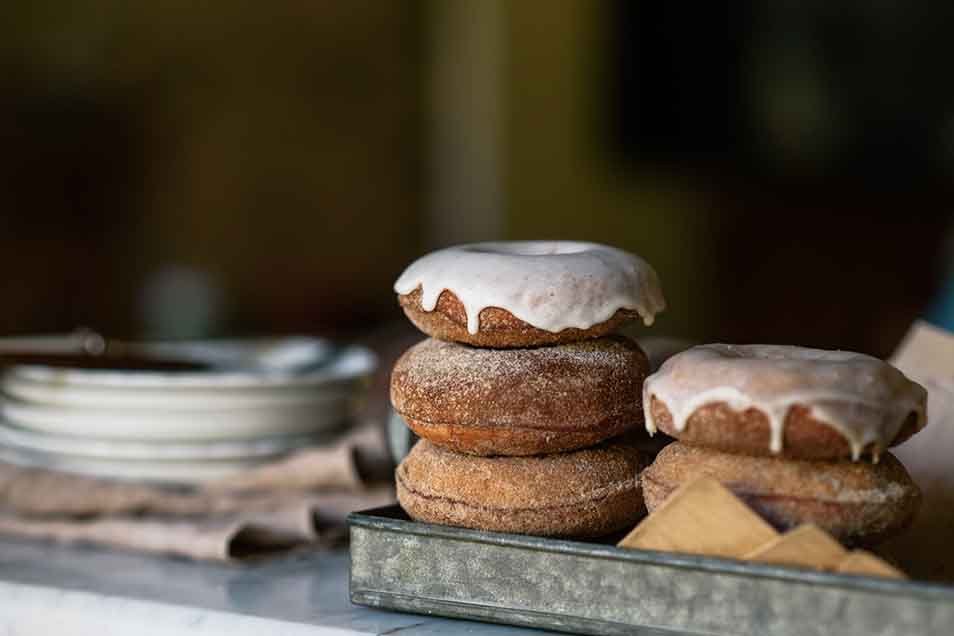 At a Glance
Prep

15 mins. to 20 mins.

Bake

15 mins. to 18 mins.

Total

30 mins. to 38 mins.

Yield

12 doughnuts
Boiled cider — apple cider boiled until it's thick as molasses — lends its wonderful flavor to these tender, moist cake doughnuts. Better still, the doughnuts are made with 100% whole wheat flour; and they're baked, not fried, so no need to stand over a pot of spattering oil. A thick maple (or cider) glaze is the perfect final touch, but feel free to simply dust with cinnamon-sugar instead, if desired.

Recipe update: Thanks to reader feedback, as of 11/30/17 we've reduced the salt in this recipe and increased the boiled cider/applesauce, both to improve the doughnuts' flavor.
Doughnuts
1/3 cup vegetable oil
3 large eggs
1 1/4 cups granulated sugar
1 cup applesauce, unsweetened preferred
1/4 cup boiled cider; or 6 tablespoons additional applesauce
1 1/2 teaspoons vanilla extract
1 teaspoon ground cinnamon
1 teaspoon salt
1 1/2 teaspoons baking powder
2 cups +2 tablespoons King Arthur White Whole Wheat Flour or 2 cups King Arthur Unbleached All-Purpose Flour
*See "tips," below.
Glaze
1 1/2 cups confectioners' sugar
3 tablespoons maple syrup*
3/4 teaspoon maple flavor, optional; for enhanced flavor
pinch of salt
2 teaspoons milk or 1 tablespoon heavy cream; enough to make a spreadable glaze
*For apple cider glaze, see "tips," below.
Directions
Preheat the oven to 350°F. Lightly grease two standard doughnut pans. If you don't have doughnut pans, you can bake these in a standard muffin tin; they just won't be doughnuts.

Beat together the oil, eggs, sugar, applesauce, boiled cider, vanilla, cinnamon, salt, and baking powder until smooth.

Add the flour, stirring just until smooth.

Fill the wells of the doughnut pans nearly to the rim; use about 1/4 cup of batter in each well. If you're making muffins, fill each well about 3/4 full; the recipe makes about 15, so you'll need to bake in two batches (unless you have two muffin pans).

Bake the doughnuts for 15 to 18 minutes, or until a cake tester inserted into the center of one comes out clean. If you're making muffins, they'll need to bake for 23 to 25 minutes.

Remove the doughnuts from the oven, and loosen their edges. After about 5 minutes, transfer them to a rack.

While the doughnuts are still warm (but no longer fragile), gently shake them, 1 or 2 at a time, in a bag with the cinnamon-sugar. If you've made muffins, sprinkle their tops with sugar. Allow the doughnuts or muffins to cool completely before glazing.

To make the glaze: Mix together all of the glaze ingredients, stirring until smooth.

Spread the doughnuts with glaze (or dip tops in glaze); return to the rack until the glaze is set.
Tips from our bakers
To make apple cider glaze: Follow the maple glaze instructions, substituting boiled cider for the maple syrup, increasing the sugar by 1/4 cup, and omitting the maple flavor.
The maple glaze formula is written for real maple syrup; if you use imitation syrup, start with 2 tablespoons instead of 3; artificial syrup is thinner than real syrup.