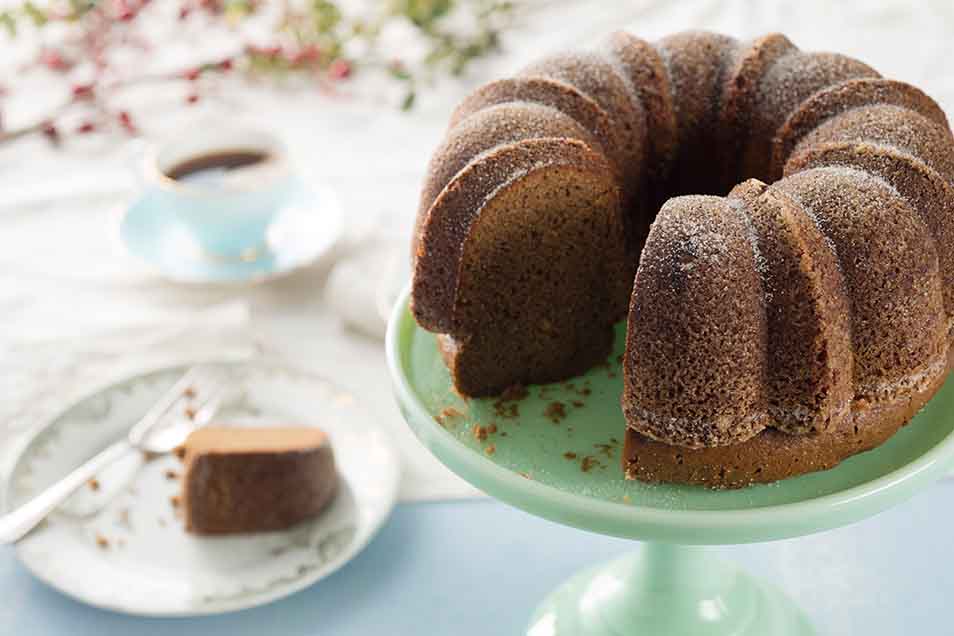 At a Glance
Prep

10 mins. to 15 mins.

Bake

60 mins. to 1 hrs 5 mins.

Total

1 hrs 20 mins. to 1 hrs 30 mins.

Yield

1 large 10" bundt cake
"Why isn't coffeecake made with coffee?" Have no fear; this cake, perfect for coffee time, IS made with coffee: espresso powder, to be exact. Add a good helping of coffee liqueur (or strong brewed coffee), and your "java tooth" will be totally satisfied.
Cake
1 1/2 cups sugar
2 teaspoons baking powder
1/2 teaspoon baking soda
1 teaspoon salt
1/4 cup espresso powder
4 large eggs
1 cup vegetable oil
1 cup whole milk
1/2 cup Kahlua or coffee liqueur; or brewed coffee (cold, not hot)
Directions
Preheat the oven to 325°F. Use solid shortening to grease a 10- to 12-cup bundt pan. Stir together the sugar and espresso powder topping, and use it to coat the pan well, tapping out the excess.

In the bowl of your mixer combine the flour, sugar, baking powder, baking soda, salt, and espresso powder. Mix on low speed to combine.

Add the eggs, vegetable oil and milk. Beat on medium-high speed for 2 minutes. Stop the mixer and scrape the bowl.

Add the Kahlua/coffee liqueur or brewed coffee, and beat for 2 minutes.

Pour the batter into the prepared pan, spreading it level.

Bake the cake for 60 to 65 minutes, or until a long cake tester come out clean. Remove the cake from the oven, cool it in the pan for 10 minutes, then turn it out onto a rack to cool completely before serving.

Yield: 16 to 18 servings.