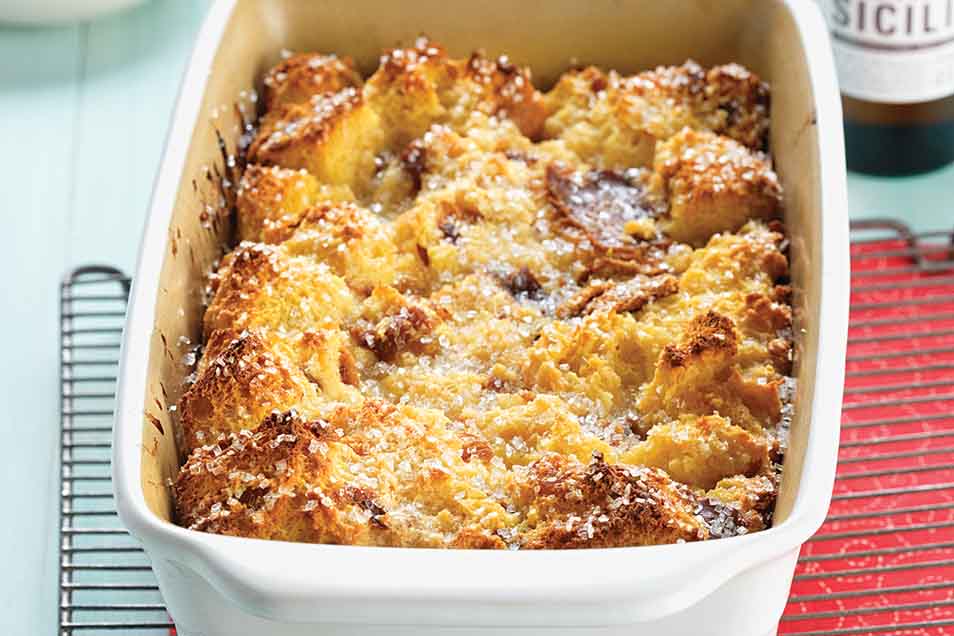 At a Glance
Prep

10 mins. to 20 mins.

Bake

40 mins. to 50 mins.

Total

1 hrs 20 mins. to 2 hrs 10 mins.

Yield

8 to 10 servings
Wondering what to do with the leftover Christmas panettone (or for that matter, the Easter dove bread, or any other sweet/holiday bread you're trying to finish up)? This simple bread pudding, made in a loaf pan and served in slices, is an engaging combination of sweet/tart flavors, and smooth interior with a crunchy sugar topping. Baked-in lemon curd filling takes it over the top. By the way, you don't HAVE to use a holiday sweet bread in this pudding. Though often those breads offer the bonus of bits of dried fruit and citrus-vanilla flavor, any slightly stale bread is fine.

Our thanks to Andy and Jackie King at A&J King Artisan Bakers for the recipe that inspired this one.
3 large eggs
2 cups half & half (fat-free is fine), light cream, whole milk, or a combination of milk and cream
1/4 cup granulated sugar
1 tablespoon vanilla extract
1/4 to 1/2 teaspoon Fiori di Sicilia, to taste; optional
9 to 10 cups diced (generous 1" cubes) panettone or other bread
a generous 1/2 cup prepared lemon curd, for filling
coarse sparkling sugar, for sprinkling on top; optional
Directions
Whisk together the eggs, half & half, sugar, vanilla, and Fiori.

Put the cubed bread in a bowl, and pour the egg mixture over it. Stir to combine. Set the mixture aside for 30 to 60 minutes, so the bread can absorb much of the liquid.

While the bread is soaking, preheat the oven to 350°F. Lightly grease a 9" x 5" loaf pan.

Stir the bread again, then spoon half of it into the prepared pan.

Dollop the lemon curd over the bread/custard. Spread it out if it's not too sticky; though leaving it in clumps is fine, too, as it'll melt a bit and redistribute itself as the pudding bakes.

Top with the remaining bread/custard, patting it down gently.

Sprinkle with coarse white sparkling sugar, if desired; this creates a crunchy/sweet topping that plays well with the pudding's smooth interior.

Bake the pudding for 40 to 50 minutes, until it's golden brown. Remove it from the oven, and let it rest at room temperature for at least 30 minutes, in order to set, before slicing and serving.

Sift confectioners' sugar over the top of each slice; serve with a bit of whipped cream or ice cream, if desired.

Yield: 8 to 10 servings.
Tips from our bakers
Fiori di Sicilia — "Flowers of Sicily" — is Italy's classic flavoring for panettone, and is a nice extra touch in this pudding.