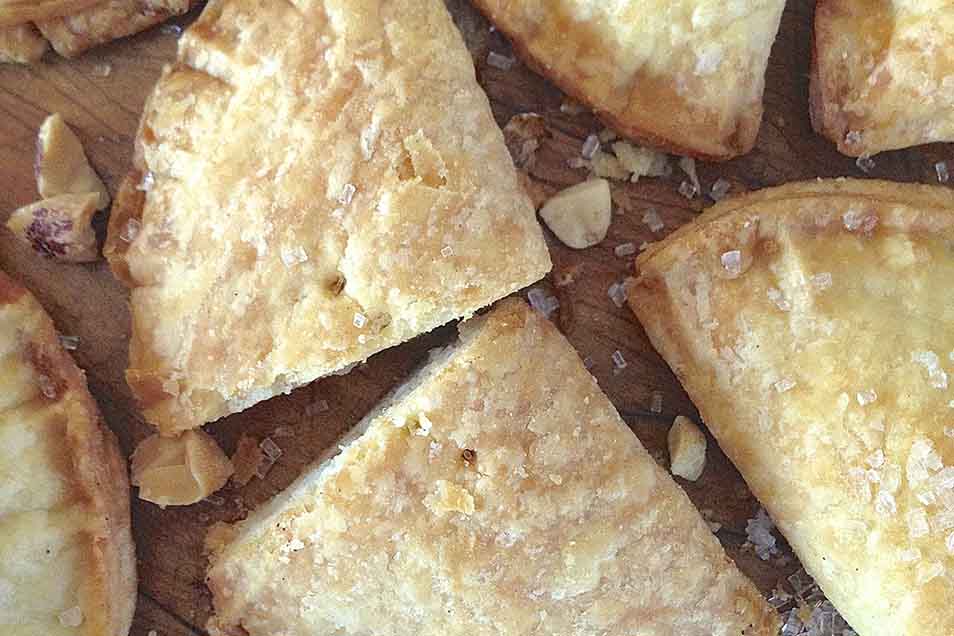 At a Glance
Prep

30 mins. to 45 mins.

Bake

18 mins. to 22 mins.

Total

1 hrs 18 mins. to 1 hrs 42 mins.

Yield

about a dozen 4" gok jai
The Lunar New Year, celebrated by numerous Asian cultures each year around the end of January and into February, is best known in this country as Chinese New Year. And, while most of the celebratory foods for this special holiday are savory, a few sweets make their way onto the table, as well — like gok jai, sweet pastry "dumplings" stuffed with peanuts, coconut, and sesame seeds. Dumplings are a sign of good fortune, as their moon shape is suggestive of traditional Chinese currency. And sweet dumplings? They portend a sweet life, of course.
Our thanks to
Annie Ko
, a Hong Kong native currently blogging from her home in Great Britain, whose gok jai recipe inspired this one. While gok jai are traditionally deep-fried, we prefer the ease (and reduced calories!) of this baked version.
Filling
2/3 cup salted dry-roasted peanuts, chopped
1/3 cup shredded sweetened coconut, toasted if desired
2 tablespoons toasted sesame seeds
1/3 cup sugar
Directions
To make the pastry: Combine the flour, salt, and sugar.

Work in the butter until the mixture is evenly crumbly, with no large lumps of butter remaining.

Stir in the egg, then enough cold water to bring the dough together. It shouldn't be sticky, but there shouldn't be any dry flour left in the bottom of the bowl, either.

Flatten the dough into a rough disk, wrap it in plastic, and refrigerate it for about 30 minutes, until it's chilled. If you leave it in the fridge longer than 30 minutes, let it rest at room temperature before rolling, until it's pliable.

While the dough is chilling, stir together the filling ingredients.

Preheat the oven to 350°F.

Roll the dough about 1/8" thick, about 14" in diameter.

Cut the dough into 4" rounds, using a 4" turnover maker (dumpling press), other 4" cutter, or a template of your own devising. Press the scraps together by laying them side by side, and gently joining them; there's no need to gather them into a ball. Continue to cut rounds until you run out of dough.

Place a heaping tablespoon of filling into the center of each round. If you have a dumpling press, simply close it to seal the filling inside the pastry. If you're working by hand, fold the pastry over to make a half-moon shape, pressing the edges closed with your fingers. Since this isn't a wet filling, and it won't leak, there's no need to seal the edges of the pastry with egg or water.

Place the gok jai on two lightly greased or parchment-lined baking sheets.

Bake the gok jai for about 20 to 30 minutes, until they're a light golden brown. Remove them from the oven, and cool right on the pan. Serve warm, or at room temperature. Wrap any leftovers airtight, and store at room temperature for several days. Freeze for longer storage.

Yield: 12 to 13 gok jai.
Tips from our bakers
Toasting both coconut and sesame seeds brings out their flavor. Spread them in shallow pans, and toast in a 350°F oven until they're a light golden brown. This will take anywhere from about 8 to 12 minutes, but ovens vary; keep a very close eye on them, so they don't burn.