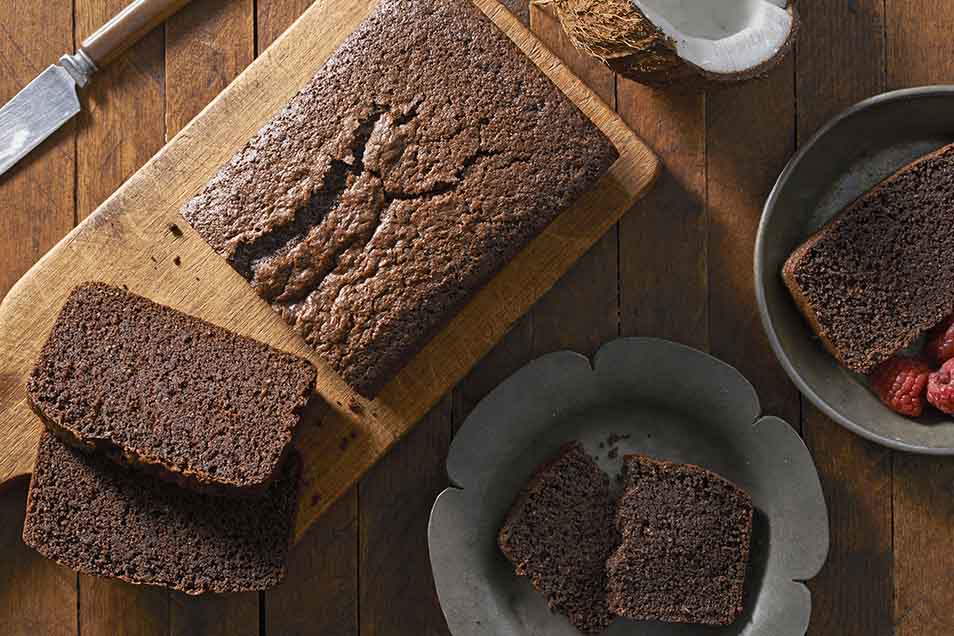 At a Glance
Prep

12 mins. to 16 mins.

Bake

30 mins. to 45 mins.

Total

1 hrs 22 mins. to 1 hrs 41 mins.

Yield

one loaf or one 8" square cake
Without embellishment, this dense, moist, gluten-free quick bread is a perfect snack to serve with coffee. With the addition of whipped cream, chocolate sauce, and/or raspberry jam, it becomes a decadent cake for any occasion.
Directions
Preheat the oven to 350°F. Grease an 8 ½" x 4 1/2" loaf pan or an 8" square cake pan.

Sift together the coconut flour and baking powder, mixing to combine; set aside.

In a large, microwave-safe bowl, melt the butter with the cocoa, stirring until well blended.

Whisk the sugar, salt, vanilla, and eggs into the butter-cocoa mixture. Add the coconut flour and baking powder, whisking until smooth.

Pour the batter into the prepared pan. Let it rest for 10 minutes.

Bake the loaf or cake until set, and a cake tester inserted into the middle comes out clean. This will take 35 to 45 minutes for the loaf pan, or 30 to 35 minutes for the square pan.

Cool the cake in the pan for 30 minutes before turning it out onto a rack to cool completely. The cake is easiest to slice when it's completely cool.

Yield: one 8 1/2" x 4 1/2" loaf OR one 8" square cake.
Tips from our bakers
This loaf is a little shorter than a conventional quick bread. It will rise to about 2/3 the height of the loaf pan, giving it a dense, moist texture.