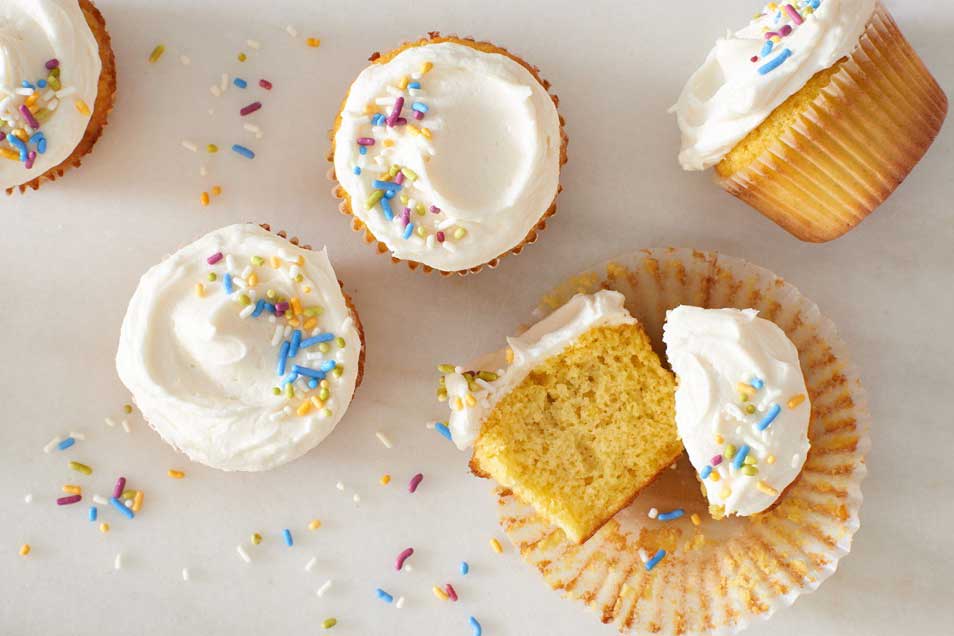 At a Glance
Prep

10 mins. to 15 mins.

Bake

18 mins. to 20 mins.

Total

1 hrs 28 mins. to 1 hrs 35 mins.

Yield

10 cupcakes
These vanilla cupcakes, made with coconut flour for extra fiber, are perfect for any occasion. Whether you're baking for a birthday, a bake sale, or just for fun, they're a cinch to whip up and are sure to be a hit!
1/2 cup vegetable oil or melted butter
2/3 cup sugar
1/2 teaspoon salt
2 teaspoons gluten-free vanilla extract
6 large eggs, cracked into a bowl and whisked to combine
2 tablespoons milk
1/2 cup coconut flour
1 teaspoon baking powder
Directions
Preheat the oven to 350°F. Line a 12-cup muffin pan with 10 paper cupcake liners. For guaranteed crumble-free cupcakes, grease the liners.

Beat together the oil, sugar, salt, vanilla, and eggs. Add the milk, and whisk until smooth.

In a separate bowl, sift together the coconut flour and baking powder. Add this mixture to the wet ingredients, and stir to combine.

Evenly divide the batter among the 10 liners, filling each 3/4 full.

Bake the cupcakes on the center rack of the oven for 18 to 20 minutes, until a cake tester inserted into the center of one comes out clean.

Remove the cupcakes from the oven, and let them cool in the pan for 5 minutes. Turn them out of the pan onto a rack to cool completely.

Frost the cupcakes with buttercream, or your favorite frosting.

Yield: 10 cupcakes.