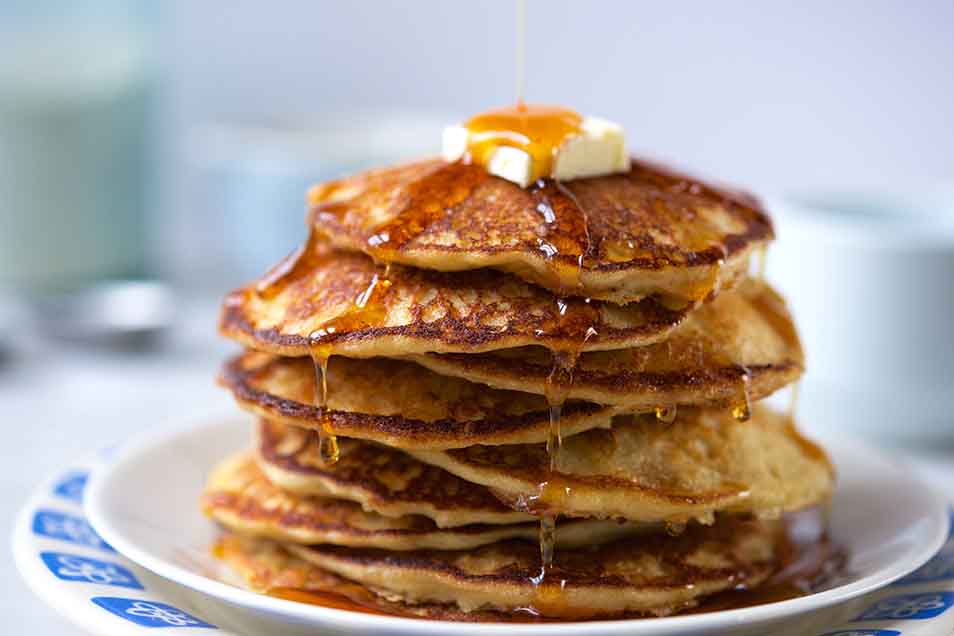 At a Glance
Prep

20 mins.

Bake

4 mins. to 8 mins.

Total

60 mins.

Yield

10 cups dry mix; enough for 50 to 80 pancakes
These pancakes are just shy of 90% whole-grain; and they're absolutely delicious, featuring the sweet-nutty taste of oats and wheat.
Pancakes
1 cup homemade mix
1 cup buttermilk*
1 large egg
*See "tips," below.
Directions
To make the mix: Grind the oats in a food processor until they're chopped fine, but not a powder.

Put the flours, oats, and all other dry ingredients into a mixer with a paddle. Mix on slow speed, and drizzle the vegetable oil into the bowl slowly while the mixer is running.

Store in an airtight container for up to two weeks at room temperature, or indefinitely in the refrigerator or freezer.

To make pancakes: Whisk together 1 cup of mix, 1 cup of buttermilk (or a combination of half plain yogurt and half milk; or 3/4 cup liquid whey), and 1 large egg. Don't worry if it seems thin at first: the oats will soak up the milk, and the mix will thicken a bit as it stands.

Let the batter stand for at least 20 minutes before cooking.

Heat a lightly greased griddle to 350°F (if you've got a griddle with a temperature setting; if not, medium-hot will do).

Drop the batter onto it in 1/4-cupfuls (a jumbo cookie scoop works well here) to make a 4" diameter pancake. If you have English muffin rings, use them; they make a perfectly round, evenly thick pancake.

When the edges look dry and bubbles come to the surface without breaking (after about 2 minutes, if your griddle is the correct temperature), turn the pancake over to finish cooking on the second side, which will take about 2 minutes.

Serve pancakes immediately, or stack and hold in a warm oven.

Yield: a batch using 1 cup of the mix will make about 5 to 8 pancakes, depending on size.
Tips from our bakers
Don't have buttermilk on hand? Here are some substitutions:
Buttermilk powder: Add 1/4 cup buttermilk powder to the 1 cup of dry mix along with 1 large egg and 1 cup water or milk.
Yogurt: Substitute Greek-style or standard plain yogurt for the buttermilk, thinning batter to the desired consistency as necessary.
Dairy milk or plant-based milk: Mix 1 tablespoon white or apple cider vinegar, or lemon juice, with enough milk to measure 1 cup; mix thoroughly and let rest for 5 minutes before using.
Counting fat grams? Reduce the vegetable oil in the mix from 1 cup to 3/4 cup; the resulting pancakes will be slightly less tender.
If you're afraid your family might object to the mild "grainy" flavor of these pancakes, add 1 tablespoon orange juice to the 1 cup dry mix along with the buttermilk. We've found that the acidity and sweetness of orange juice helps mellow the tannic taste some people perceive in whole wheat flour. While the pancakes won't have any orange flavor, they may taste slightly milder to you and your family.
To keep pancakes warm prior to serving, place them on a baking sheet and tent with foil. Keep warm in a low (200°F) oven for up to half an hour.
Want to make a quick fruit sauce to go with your pancakes? Check out our easy microwave jam; instead of refrigerating the thin jam once it's cooked, serve it immediately, as sauce, with pancakes.
These pancakes are very amenable to mix-ins. A partial list of combinations that have made successful appearances so far: peach, raspberry, banana-walnut, cheddar-apple, blueberry, and cranberry-apricot.