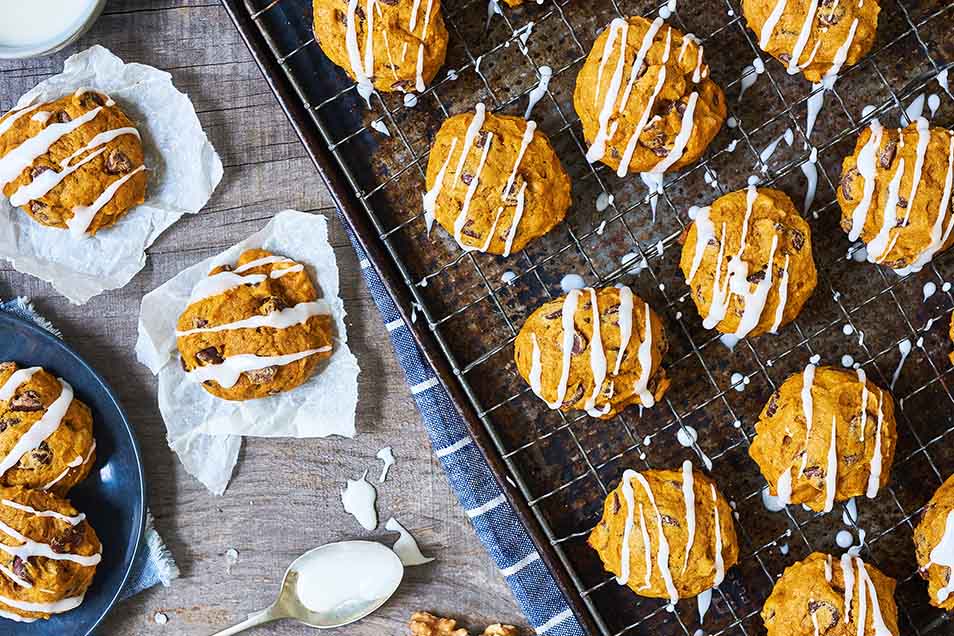 At a Glance
Prep

45 mins. to 1 hrs 25 mins.

Bake

17 mins. to 19 mins.

Total

1 hrs 5 mins. to 1 hrs 25 mins.

Yield

5 dozen
Pumpkin and chocolate chips make a great pair for Halloween. Add some strategically placed chips when the cookies come out of the oven for eyes, then drizzle the glaze for stripes, and you have the perfect party snack without a lot of fuss. For more grownup tastes, add the optional orange zest.
Baking gluten-free? For great results, substitute
King Arthur Gluten-Free Measure for Measure Flour
for the all-purpose flour in this recipe; no other changes needed.
Cookies
2 1/4 cups King Arthur Unbleached All-Purpose Flour
1 teaspoon baking powder
1/2 teaspoon baking soda
1/2 teaspoon salt
1 1/2 teaspoons cinnamon
1/2 teaspoon ground ginger
1 cup unsalted butter, softened
1/2 cup brown sugar
1/2 cup granulated sugar
1 (15 ounce) can pumpkin
2 large eggs
1 teaspoon vanilla extract
grated rind (zest) of 1 orange, optional
2 cups semisweet chocolate chips
1 cup chopped walnuts
Glaze (optional)
1 1/2 cups confectioners' sugar
2 1/2 tablespoons milk
1/2 teaspoon vanilla extract
Directions
To make the cookies: Preheat the oven to 375°F. Lightly grease two baking sheets, or line them with parchment paper.

Whisk together the flour, baking powder, soda, salt, and spices in a medium bowl.

In a separate bowl, beat together the butter and sugars. Scrape down the sides of the bowl, and beat briefly, just until smooth.

Add the pumpkin, eggs, vanilla, and orange zest, beating to blend.

Slowly add the dry ingredients, beating to blend. Stir in the chocolate chips and walnuts.

Using a tablespoon cookie scoop or soup spoon, drop the dough onto the prepared baking sheets in 1 1/4" balls. Bake them on the middle oven rack for about 18 minutes, until the edges are lightly browned. Remove the cookies from the oven, and let them cool on the baking sheets 5 minutes before transferring them to racks.

If desired, press two chocolate chips into each warm cookie to make eyes for the pumpkin.

To make the glaze: Stir together the sugar, milk and vanilla until the glaze is smooth. Dip the tops of the cookies in the glaze; or drizzle the glaze over the cookies.

Place the cookies back on the rack for the glaze to set. Wrap loosely, and store for several days at room temperature; freeze for longer storage.